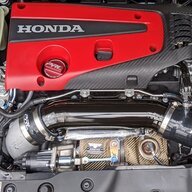 First Name

Adam
Joined

Jul 11, 2019
Messages
Reaction score

328
Location
Car(s)

2020 FK8 Type R, 2007 Civic Si Sedan

That was an actual issue on their end? I got my HVI from the first batch, and when installing it, the silicone hose just never goes on as far as I see everyone else's. I've done everything I can, and even extra muscle to help me push it onto the inlet pipe, but still nothing. Did a couple other tries since I had to remove that piping when I installed their charge pipes, and I still haven't been able to slide that silicone over as far as most peoples. Figured it must be me. Tried lubing it as well. Would be nice if I got another one for free. Maybe it'll fit better whenever I get the inlet by PRL. I have all their products but that.
The TIP inlet hose is better, easier to install, but you still need to pay close attention to how the evap flange is positioned as it can easily rub against the hood
To test if it would hit, instead of trying to peak through the hood and look, I took a piece of painters tape and made a loop and gently placed it on top of the flange. Then I dropped the hood, if it was positioned improperly it would stick to the hood. Adjusted the flange until I could drop the hood repeatedly without the tape sticking to it.
For mine I had to set it up like this
The diamond shaped base is what would be rubbing the hood