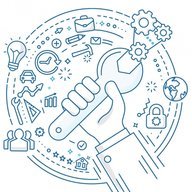 Customer Service oriented (most of the time) :-)
First Name

RJ
Joined

Feb 10, 2019
Messages
Reaction score

503
Location
Car(s)

Dihatsu Charade, BMW, Various Hondas, Focus ST, and VW GTI

For understanding purposes only:

FACTS

* Stock exhaust system is more than capable of supporting maxing out the turbo's capability. Pre-Cat is large, Mid-Pipe is 2.125" and exhaust is 2". Stock Turbo is the shortfall.
** The WG is is electronically controlled and the ECU uses "slope logic" to bring in spool. You can achieve increased spool with base tunes by adjusting the level of Ramp Rate already. Previous testing of a downpipe system showed a reasonable bottom end to midrange improvement, but nowhere near the gains an ECU reprogram delivers. (et al Hondata)
***

(Corrected)

There are a few owners (as of this date) that have modified the stock turbo with the 27WON on a CVT.
As to the 'reliability' or 'daily driving' longevity it is uncertain. However, one owner has posted a 13.4s 1/4 mile @108mph on E85 blend. There is another owner who has opted for the Si turbo on a Non-Si (w/Full bolt-ons) and is just shy of that mark using Race Fuel. THEORY

* The CVT has been tested for "capability"; however, no hard data has been reported as of this date.
WHAT is "Maximum" Torque? My estimation stands with a reputable individual that guesstimated approx 230-240lb/ft. Is that V6 levels of torque? The lower (under the threshold) the torque is kept in the gearing, the more reliable the CVT will be over time. The TSP tune reports a torque of 250lb ft; however, that number is limited under 4000RPM on CVT models and will arrive further to the right.
** It is important that when increasing torque, that the RPM band from which it is generated be moved further right (easier to achieve on the upgraded turbos / obtainable on stock with appropriate tuning).

***

The M/T models are about the same level of stock clutch safe operation; but closer to 240lb ft than higher.
**** There are numerous owners that have reported clutch slippage using higher than stock boost tunes.

1) Let's determine our Maximum Turbo Efficiency: Maximum turbo CFM output = (3.14)(turbo compressor wheel size ÷ 2)2 / 3 So:
(3.14) x (39.1mm stock compressor wheel / 2) = (3.14) x (19.55)2
(3.14) x (19.55 x 19.55) = (3.14) x (382.20)
(3.14) x (382.20) = 1,200.11 Now, divide 1,200.11 by 3 =

400

(corrected)

Thus, the Maxium Turbo CFM output of the non-si turbo is 400 CFM.

a) A stock set-up is more than capable of handling the power that the turbo can produce effectively.
Using the highest Octane possible will get you to those numbers (i.e. Race Fuel, E-Blend, etc...)
b) **Max Flow DOES NOT equal "efficient" flow.
- Our stock turbo operates at 70-72% peak efficiency. That brings actually air flow down from 400 to around 280-290CFM (See Image #2).
c) From factory @5500rpm HP reaches it's peak; to get past that hump a more efficient turbo is required. This is the tranistion from boost is higher than exhaust back pressure TO exhaust pressure higher than boost. The power capability remains in the turbo's ability to push and pull.
d) Non-Si Turbo Exhaust Exducers are "11" Blades as opposed to "9" Blades for the CRV & Si models.
- The lesser blade # can exspel exhaust gases more efficiently; thus a bit higher RPM power. 2) Let's determine Spool time: Spool time in seconds = turbo compressor wheel size2 / (exhaust PSI)(100) So:
(39.1mm x 39.1mm) = 1529
(14.7psi barometric + 16.5psi Max Stock level x 100) = 3120
1529 / 3120 = .49


.49secs

is your spool time

a) You can add your tuned PSI into the equation and see how your spool time is dropped at that level.

3) CONCLUSIONS: Downpipes and aftermarket exhausts DO NOT add favorable power gains with the stock turbos. Aftermarket intakes are a "preference", not required.
--It is ideal to keep with the designed Bypass Valve and not migrate to a Vent to Atmosphere.

An Upgraded IC would be advantages in heavy duty "Street or Racing" applications that are utilizing higher PSI tunes, but not required for regular street driving.

Notes:
#1 In a FI vehicle, the air entering the combustion is after the IC. So, adding an aftermarket intake (claiming to provide more "cold air") is a moot subject. That colder air is being compressed and heated up by the compressor, then through the IC to be cooled - before being added to the combustion.
A more recent tuner on the market stated this in regard to the development of a Turbo Inlet Pipe (constructed of aluminum) and it's tendancy to transfer heat:
"Not like you would think, the air is always moving through it so it does not heat the air that much. Plus its pre-compressor so its important to have a good IC to help out."
A higher efficiency drop-in filter would function just the same (especially on a limited turbo). All that is needed is to meet the demand of air intake with velocity.
The optional MAF's available (Street/Race) are what provide for a bit more HP. You need a specfic tune to register the use of them; otherwise, your fuel trims will be off. That HP will only be available very high in the RPM and for a very short time.

#2 Upgrading the charge hoses (when increasing PSI) will decrease radiating heat, premature wear, collapsing, and provide a longer lifespan (dependability).

#3 By adjusting ignition, fueling and VTC, the Base Tunes (of both Hondata / KTuner) provide safe performance - even on a completely stock vehicle.
Things can be pushed a bit further with custom tunes and increased octane.

#4 The Stock spark plugs are the best option for ignition. Pre-gaps of .028-.030 for the turbo models are about standard. When increasing boost past stock (+/=4psi) it would be wise to gap down an addt'l .002 (on stock turbos). I will not cover extreme boost conditions, ask your tuner for recommendations.

#5 Monitor your Oil levels and increase your change schedules based on your driving styles (frequent short trips, stop & starts, increased spirited driving, etc.)
It is recommended to use oil brands that contain a higher volume of detergents & disperants to assist with cleaner piston burn and lowering the carbon signature (due to increased oil dilution issues).

#6 There has been a recent discovery about the differences between the stock air boxes of both Non-Si & Si models. Just understand, that they were designed for the differences in turbo specifications for each model (e.g. 9 blades breathes better than 11).

Just understand the limitations.
***For the Si and 6MT models, the sky is the limit with correct modification(s).
Now for a little entertainment:
It has become apparent that our vehicles may very well be equipped with TD025 turbos. However, given the boost levels of Base Tunes available from the two prominent tuners, we are more so likely on a TD03 turbo (as claimed by Honda). Let's look at the information available for both the TD025 and TD03 (See Image #1).
IMAGE #1


TD025:
The Max Pressure Ratio is 2.2.
So, if we were on a 21psi Tune then:
Pressure Ratio = Absolute Discharge Pressure / Absolute Turbo Inlet Pressure
(14.7psi + 21psi) / 14.7
35.7 / 14.7 =
2.42
The arguement here is:
How can our turbo achieve a Pressure Ratio of 2.42 if it is a TD025?

TD03:
The Max Pressure Ratio is 2.9
So, if we were on a 21psi Tune then the 2.42 Pressure Ratio falls within the capability of the turbo.
That is engineering logic.

***The contention is that our TD025's are a "HYBRID" that possess a higher PR than a standard TD025.
***Which I would have to agree with. As what was released by HONDA displays the Compressor Map of our 1.5L turbos. (See Image #2)
IMAGE #2
With a Pressure Ratio of 2.4 on a turbo with a ceiling of 2.9, you will be in the higher efficiency islands of the compressor map more sustainably; without maxing out the stock turbo's capability.
The turbo will be working harder to obtain a boost target. For example:
The MAP is registering 19psi but the compressor is operating at 21ps and your target is 21psi. That difference is "System Pressure Loss" and is a thermodynamic principle; better known as
Bernoulli's
principle. Which in simple terms means that when you draw air from outside, you are drawing air in at atmospheric pressure. However when it gets pulled through the filter and air tubing, the pressure actually drops BELOW atmospheric. So, your ECU then increases the compressor PSI to reach your target of 21psi - so, your turbo is actually in a higher PR than your target.
I would also like to point out that Honda (or any other manufacturer) are in fact providing you correct technical information as it pertains to boost pressure. Just understand that from this point forward, as you are reading the MAP level on your tuner or datalog - that your turbo is actually producing more PSI than that to achieve the target.
Hope that helps....
*Article Update as of 6APR20
Last edited: