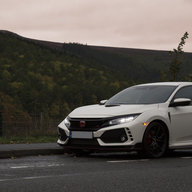 First Name

Chris
Joined

May 20, 2020
Messages
Reaction score

9
Location
Car(s)

FK8 C.W '18

Hey guys,

Today I had my CTR tuned by a reputable U.K Honda tuner using Ktuner V1.2. End results were 386BHP and 353LBFT. During the post-tune street runs, the tuner noticed an audible/physical blip occurring at around 4200RPM, coinciding roughly with the peak torque point. Audibly it sounds like a click/hi-hat, almost like a small release of air. Physically it feels like a tiny stutter whilst going up the rev range. A week prior to the tune I had no choice but to fuel with 95 RON (91 RON US), the tuning team put it down to possibly having bad fuel not agreeing with the 98RON based tune. 95RON is the minimum suggested quality for the U.K.

Things Tried:
- Tune has been rechecked for inconsistencies. None found, tune is conservative and said to be safe.
- Flashing back to stock and retesting. No clicking or stuttering noted.
- Tank emptied as best as possible. Brimmed with 99RON, driven casually, then spirited, for 80+ miles in an attempt to flush remaining 95RON.
- Ktuner datalog shows a slight blip in AFR at suspect RPM (unbeknownst to me you have to actually save the log once you're done recording...doh...I will try again tomorrow and upload results along with dyno sheet). Regardless, AFR is always under 12, even during the blip.

Mods:
- HKS Legamax Exhaust.
- PRL HVI Intake (stock turbo inlet pipe).
- HKS Intercooler w/charge pipes.
- KTuner V1.2

Any help would be massively appreciated as always!
Last edited: