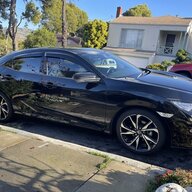 Joined

Dec 2, 2016
Messages
Reaction score

287
Location
Car(s)

17 FK7 | 11 E90M3
Vehicle Showcase

Big +1 to the Stoptech article. Across my four cars over the last 27 years, I only "warped" the rotors in the first few months of my first car -- and it was due to the abuse I put them through on a daily basis (stop hard, leave my foot mashed on the pedal, and never let them cool, thereby baking pad material onto the rotor).

Generally speaking, and in this order, improved braking comes from:

1. Tires. If you need shorter braking distances more often, get better tires. If these aren't enough, then move to...

2. Pads. You can change the bite and temperature range of the brakes by getting different pads. I had semi-race pads on my EP that had a nice, grabby feel (great for auto-x) and could stand up to anything this side of an extended FATT session. If you're still getting fade (and I hope you're only driving this hard on a track and not on the street), then...

3. Fluid. Fresh, high-temp fluid will help avoid boiling. And if you've ever boiled the fluid, you should replace it as soon as you can. In fact, if you do a track session, it's a good idea to flush-n-fill with new fluid beforehand, and then flush-n-fill again afterwards. And if THAT isn't enough...

4. Bigger brake kit. And figure out how to balance the brakes correctly, too. You don't want bigger front brakes that overwhelm the front tires and invoke ABS long before the rear wheels have reached their maximum braking power. Stoptech has a good reputation for bigger kits that maintain correct front-to-rear brake balance.

Drilled or slotted rotors? I'm kinda "meh" about them. Maybe I'll try a set when I wear out the original rotors on mine. At the rate I've been going, though, I might be selling or trading in this car with these same rotors on it.
This is great advice that I would also give out. I would suggest step 2 and 3 to be performed at the same time and include SS brake lines if track sessions are part the gameplan. That is usually more than enough to get most users up and running.
I ended up doing all these on my E46 and ended with a Stoptech BBK years later as my driving level improved.