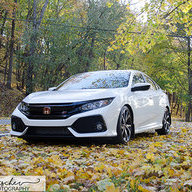 First Name

Jake
Joined

Jul 20, 2017
Messages
Reaction score

1,391
Location
Website
Car(s)

2017 Honda Civic Si, 2019 Honda CR-V EX-L, 2017 Subaru Forester
Vehicle Showcase

Ok, maybe it isn't really official, but I have been beating my head off the wall for a while now trying to decide what I want to do with the Si exhaust. It is obvious that a lot of engineering went into the stock muffler and exhaust tip design, due to the fact that it is stupid complicated.
I know that a lot of you have done muffler deletes, muffler swaps, resonator deletes, etc. Looking online, there have been quite a few "Dr Frankensteins" who have, frankly, mutilated the stock exhaust. Not interested in that. I am looking for the most cost effective way to get a deeper, modestly louder sound out of my Si. It is has been shown by
@PRL Motorsports
that there isn't much power gain to be had with any aftermarket exhaust for this engine so far, so let's face it fellas and ladies, we are all doing this for the sound. How much more sound is the real discussion.
That being said, from what I have seen and heard on Youtube, etc, the best sounding and most cost effective option for me is the resonator delete only. It gives the car a much deeper tone, with a little more volume. A local reputable exhaust shop around here said he can do remove the resonator and replace with low grade stainless for about $150.
If any have JUST removed the resonator, and left mufflers in tact, please post any videos you have: in car, behind car, highway speed, etc. I am curious to know if it causes any drone on the highway at all.