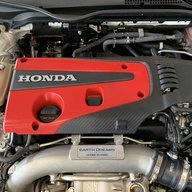 Joined

Dec 7, 2018
Messages
Reaction score

278
Location
Car(s)

2018 Civic Type R, 2017 GTI SE DSG

I've been away from Honda for almost 17 years. I had three different Preludes back in the day, a 4th gen Si, 4th gen VTEC, and 5th gen (all 5th gens were H22 powered). All manual.

The turbo + AWD craze sucked me in, and I've spent most all the time in between then and now owning Evos. Most recently, I had a mk7 Golf R DSG, which I traded for the Type R.

I'm not going to label this as a build thread, per se, it's more just a little project.

While a couple of the Evos were over 500hp, that's not the plan with the Type R. I'm not in love with the marriage of FWD and torque, and this car struggles for traction in second gear completely stock.

The Type R mission hasn't changed much since the DC2 ITR. The FK8 is built to obsessive levels of engineering, and has been refined to near perfection for a track. In this case, optimized for FWD and around 300HP.

Further reasons to avoid tuning to me are because the fuel system doesn't have a lot of head room, and the hot side on the stock turbo is tiny. Lots of tuned CTRs have gains of like 100wtq and 50whp. Worse, they're shifting the powerband too far to the left, and moving peak power to around 5500rpm. Not really the recipe I want for FWD at all.

So the reason I'm saying it's not a full project is that I'm going to add a little seasoning instead, but leaving most of the package designed by Honda well enough alone.
Last edited: