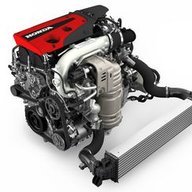 Joined

Oct 19, 2019
Messages
Reaction score

128
Location
Car(s)

2018 Civic Type R

Someone mentioned on here about having a turbo'd integra back in the day that they could hoon around the track without overheating issues. I've owned some EG civics in the past, along with friends who've owned DC, DB integras- I'm pretty familiar with the platform (EG/DC being the same, DB being a bit different), though it has been about a decade since I've owned one.
Anyway, neither the EG nor the DC integras have much room for cooling, upfront. They don't have an upper grill, just a lower opening and it likely is smaller than the FK8 openings up front, in total. So what gives?!
A couple things came to mind- one thing, neither the EG or the DC have under body trays, shielding the engine bay. Those of you track your Rs, did you remove the oil drain panel? Yes, hot air travels up, but I wonder if the wind flowing under the car can help siphon some of the hot air in the engine bay?
The other thing is the DC/EG engine bays had a bit more open room surrounding the engine itself, then the CTR does. This too might help with reducing some of that hot air. Both of these items though, seem like they'd make only marginal improvements in heat management.
Then I started looking at the engine- and that's where I think the major issues come in. Comparing a K20C1 to any other K20A, and you see how much thicker the engine walls are. It seems the engine itself might be the biggest issue for heat management. I took these photos from 4 Piston, and my god... what a difference. This is just looking at the heads, side by side:
The coolant channels in the head seem slightly smaller than the K20A versions too (though that might just be my eyes playing tricks on me
). That, and the K20C pulls in about 55% of the air flow that the old K20A does (according to 4piston, 158cfm vs 300cfm). I wonder if all that combines for overheating issues. The head walls themselves look to be twice as thick!
The final thing I see is the single port exhaust, as opposed to the four holes the K20A has. They do this for cost savings, easier turbo mounting, better emissions control and apparently the single channel port has a water jacket around it, to help control temps. But if the coolant is super hot, it likely isn't helping matters. And at least in my mind, it seems the four ports leading to a turbo could help manage temps a little better than the single port. They might not work well for emissions, but for engine temps???
I'll admit, I'm no engine guru and folks on here could likely school me a bit on engine design and what not, but yeah... the thing that made me think of this is when I read someone was tracking their CTR with no hood, and the improvements in cooling were minimal at best. Soooo who's gonna swap in a built K20A into their 40k CTR now, for track purposes? (Jokes!)
Last edited: