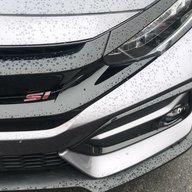 First Name

Anthony
Joined

Nov 8, 2019
Messages
Reaction score

195
Location
Car(s)

2020 Civic Si

Hey everyone! As the title says, I am officially the owner of a new 2020 Civic Si. I am beyond excited to be able to say that I now own one and to officially become part of this community after stalking the forum in the shadows for so long. I figured I would make a post to introduce myself to everyone along with a little background that led up to the purchase and my experiences in the brief 3 days and 600 miles I've had it. Yes, I put 600 miles on it in 3 days.
**I didn't realize this post would be so long, so I apologize in advance. I tend to be over descriptive sometimes, but I broke it up to hopefully make it easier to skip the parts you don't want to read.**
Background:
Prior to this, I drove a 2010 Camaro RS for 7 years. I bought the car used during the summer before my senior year of high school (2012) with 30k miles on it and daily drove it faithfully from high school, throughout college, and post-graduation as a commuter to my first big boy job. It was surprisingly reliable too, yielding zero issues for the 82k miles I drove it with the exception of some worn suspension components that are to be expected. As it was creeping past 105k miles it began showing signs of its age by burning excessive amounts of oil and a throttle response much less of that in it's former glory. Once I noticed the oil was burning at the rate it was, I knew it was time to part ways with it before it became a bigger problem that would require me to dump money into a car that wasn't worth a whole lot anyway. Additionally, it needed: new brakes, rotors, and an inspection soon. It wasn't worth putting all that money into and was time for it to be someone else's problem.
Decision
:
Getting an Si was a long time coming. The camaro was a fun car to drive, especially for a 17 year old kid, but always left me yearning for more. It was also brutally impractical for me: coupe, horrendous visibility, non-existent back seat passenger space, drew attention from the police, drove like dick in the snow, etc. I knew I wanted something more practical for a new daily, but I also enjoy driving, so I didn't want to have to compromise on the fun factor of driving. The Si was my answer. I'm usually very impulsive and not as responsible as I would like to be with bigger decisions like this. Usually if I see something I like I just get it and figure out the rest later. I made sure to do my due diligence this time around by really putting careful thought into this decision and spent A LOT of time researching different vehicles trying to determine which would be the best fit for me within my budget. I landed on the 2020 si after about two months of deliberation. It checked off all the boxes for me, and with the updates that came with the model's refresh this year; it was the best value of all the cars I was considering. It felt like a no brainer.
A little more background to help with the decision:
I also have a soft spot for Hondas. My uncle who I was close with my whole life is a loyal Honda fanatic who over the years has had many civics, integras, Honda dirtbikes/quads, and even goes as far to only buy Honda lawnmowers and weed whackers. He's actually building a sick EF that hes had almost 20 years that he's been slowly working on in his spare time. I'd like to consider myself a "car guy" but my dad never really was, so my uncle was probably the biggest influence I had that got me into cars and his love for Hondas naturally rubbed off on me. I always owned honda dirtbikes and my first car was originally supposed to be a 2003 RSX Type-S. The RSX was a weird situation with family friend who was going to sell it to me for a great price and had promised me for months that it was mine but fell through due to some sketchy circumstances on his end. During those months I thought I was getting it, I was trying to learn everything I could about the DC5 chassis and K20 engines by doing as much research as I could and spending countless hours on the clubrsx forums, so it was still a great learning experience despite never getting it. With all that said, getting an Si just felt right.
Purchase:
It's kinda funny how it happened. Two months prior, when I first decided I was going to look to replace the camaro, I went to my local Honda dealer to check out a Type-R. I was fully aware I couldn't afford it, but I wanted to check it out anyway and pretend like I can to practice my haggling with the sales person as an added bonus. They were super aggressive on selling it but not willing to work out any details on the pricing unless I was ready to sign the papers, which I wasn't, so I told them I needed to move some money around and will be back tomorrow. I obviously never came back, but the sales guy I dealt with would not stop calling me and sending emails. I ignored him for about a month before he got the point.
Fast forward two months, I walked into that same dealership with intentions to look at an Si they just got delivered and ran into the same sales guy. I apologized to him about not being serious about the Type-R and dodging him because I did feel bad about wasting his time. His response was: "It's all good, I guess your back for an Si then?". He hit the nail on the head and ended up selling me one less than a week afterwards. Turns out he has an Si too and was really great to deal with with. He wasn't NEARLY as pushy as he was with the Type-R. Anyway, I originally wanted aegean blue but went to look at the modern steel they had anyway. I ended up loving the color more than I thought I would, and they were giving me a pretty good deal on it so I decided on that one. A few days later I traded in the camaro (which was harder than I thought it would be because of the sentimental value it had to me being with me through so many stages in my life) for my new Si.
Owning it so far:
I'm blown away by this car. I had more fun the first night I owned the Si than I ever had in the camaro. I drove off the lot with 7 or 8 miles on it and ended up with 96 on the dash by the end of the night (I only live about 8-10 miles away from the dealer). I know that sounds crazy, but there is some legitimate reason for it. I drove so much the first night mostly because of the excitement over my new car, but part of it was also because I was going on a little road trip the next day and wanted to feel out the car while I was still in familiar surroundings. Although I know how to drive a manual and have driven many cars with manual transmissions, this is my first car I've ever owned that is a manual, so it felt important that I got very comfortable driving it before I hit the road the next day.
It only took about 15 miles of driving before I received my first cosmetic flaw to the car. As I was driving I heard a "TINK" come from around the passenger's side rear quarter panel. It sounded like I got hit with a BB gun honestly. My heart sunk and I pulled into a well lit gas station to see what happened. It's hard to say what exactly hit the car, but whatever it was left a tiny little ding that went down to the metal of the panel. I will post a picture of it another time when I can get one in decent lighting, but it looks like it will be hard to repair. Please let me know if anyone has any suggestions with what I should do about it.
I bought the car Friday after I got out of work and was going on the mini road trip Saturday afternoon. So, Saturday I drove to Philadelphia (about 2 hours south of me) and stayed there for the night with my old college roomates, drove to Baltimore (2 more hours south) with them on Sunday to see the Ravens game, drove back to Philly to drop them off, and drove back home. When I got home Sunday night I had 597 miles on the dash.
Now I know someone is going to say "YoU KnOw YoU ShOuLdNt HaVe MoStLy HiGhWaY MiLeS DuRiNg YoUr BrEaK iN PeRiOd." I know. I felt stupid enough taking a brand new car to filthadelphia the way it is; don't bust my balls over the break in thing. While I was on the highway racking up those miles I made a conscious effort to make sure I vary my RPM range to ensure proper seating of piston rings. Truthfully, I'm not all that worried about the break in period though. These engines are engineered from the factory to be pretty much broken in, so as long as I wasn't driving it at redline the entire time, I don't believe my first 600 miles of driving will make THAT MUCH of a difference in the long run.
Impressions:
I got plenty of driving in on the first couple days. Here's what I think so far, in no specific order:
This car is QUICK. I wish I could speak to the difference from 2017-2019 with it's shorter final drive ratio, but man does it have good acceleration.
Driving on the highway with it was way better than I expected. I heard people saying the shorter final drive would make it better for dailying around town at the cost of being a little worse on the highway. After my trip I can say that the rev ranges I was in were not a problem in any way. There was no audible drone nor was it noticeably loud and I had ample acceleration accessible no matter what gear I was in. Again, I cant speak to the difference from previous years unfortunately.
The technology in this car is crazy and I'm happy it's there. The added value of the Honda Sensing Suite in the 2020 model was a major reason I went with a new 2020 as opposed to a used 2017-2019, but I was still skeptical on whether on not I would utilize it enough to justify paying for their benefits. After playing with all of its features on my trip, it reaffirmed me that I made the right call. Some of it was weird to get used to though, like when the lane departure counters my steering if I switch lanes when there's no one around and don't use a turn signal. It felt like it was fighting me when I try. But, I'm also glad I have the option to turn it off and use it at my discretion.
The clutch makes shifting easy, but the transmission makes shifting fun. I was nervous with the idea of driving this car into two majors cities the second and third days of owning it, but the clutch and brake keep made the city driving seem like a breeze. And this comes to no surprise to anyone, but the transmission just feels great on this car with super satisfying shifts.
It's handling ties the car together. The car is such a comfortable ride regularly, and is still really good in sport mode, but the confidence it has when you get on it around corners is impressive. This is the part that I think really tied everything together for me to truly be a fun car.
I'm loving the interior, even the headunit. The seats are great, even for my husky ass. I was worried they might be tight for my love handles but I fit in them very well. They are plenty comfortable for daily driivng yet still racecar-y enough to hold you planted in the seat during aggressive driving. I like the material of the seats too, which I was initially unsure of since I'm used to leather. Passenger space in the car is also much more roomy than I thought. My brother is 6'2" at ~245lbs and was surprised with how comfortable he was in the back seat. Lastly, I actually like the infotainment system. I wouldn't be saying that if it was a pre-2019 model lacking a volume knob, but it's easy enough to use so far. I've only had it for 3 days so I guess that could change. It should be noted that I am used to driving a car where bluetooth is the most advanced technology that the driver can interact with, so this is way more advanced.
I can't seem to find anything that I would change about the car so far. Take that with a grain of salt since I've only had it for 3 days. This car is everything I expected it to be and more. I expected the factory audio system to be garbage and assumed it would be one of my first upgrades, but I was pleasantly surprised with it. I cant find anything that I would change so far. I genuinely love everything about it and haven't found anything I thought to be annoying or inconvenient. A lot of research went into my decision with this car so I knew what I was getting myself into with it, but I still don't think I had to make any compromises on what I wanted. It's just such a great value!
Overall, I'm thrilled with my decision on buying this car. This is my first real big boy purchase, so I was pretty nervous signing the papers on it knowing I was making such a huge commitment. Its weight kinda robbed some of the joy I was expecting to have as I was handed the keys to my new car. After driving it off of the lot, the weird nervousness and uncertainty I felt was quickly eradicated and replaced with an ear to ear smile that still hasn't left my face after 3 days of owning it. I'm happy I went on that trip my second day with the car too, because being forced to drive in a variety of environments made it very clear that I made the right decision buying my Si and I won't be regretting it.
I look forward to owning this car and slowly making it my own along with learning as much as I can about it and being a part of the community. Let me know if anyone here is from NEPA, I would love to organize something with fellow Si owners in the area.
Thanks for reading about my story, especially if you actually read the entire thing (bravo). Here are some low quality iphone pics I took of my new Si. I will post some better ones when I can take some proper photos.