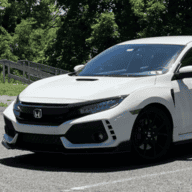 First Name

Matt
Joined

Mar 26, 2017
Messages
Reaction score

1,451
Location
Car(s)

2017 Mazda3 GT Hatch 6AT, 2018 Honda Civic Type R (traded in)
Vehicle Showcase

As most of you know, I got rid of my CTR about 4 months ago due to various reasons and traded it in on a 2017 Mazda3 hatchback. Well, I just wanted to take some time to reflect on the experience and what it's been like without it.

First, to get the biggest question out of the way... I definitely miss my CTR. But do I regret getting rid of it? No.

In the 4 months since buying my 3, I have gone to places I wouldn't have taken my CTR. Without worrying about getting stuck in traffic, being on horribly bumpy trails, worrying about rock chips, etc, my 3 has almost 5000 miles on it already since I bought it. It's ease of driving with all the technology has done a lot to ease my anxious mind and it's empowered me to drive it more. I've taken it to many parks, landmarks, etc along the way and it helped me appreciate nature more, along with how wonderful our planet really is.

However, the 3 is not my CTR. The CTR had a special factor to it. Simply put, I do not get the same sort of enjoyment out of driving my 3 as I did with my CTR. However, I get more enjoyment of being able to relax more in my 3 than I was able to in my CTR, if that makes sense. Less stress = more relaxing.

Having a significantly lower payment and not having to fill up as much is another bonus.

The big thing I miss though is that manual transmission. My friend test drove a WRX with me recently along with a Jetta GLI and it instantly made me remember why manual cars are so fun. And I have to say - for as much as the CTR gearbox liked to screw with me, it really is one helluva transmission. I think the WRX is actually pretty good too (also the low range torque is downright addicting), but I can see why everyone prefers the CTR gearbox now.

However, I love my 3's automatic too! It's smooth, it's basic (6 gears paired with a torque convertor), and if I really want some more engagement, I have the manual mode, and it works great. As a daily driver, I prefer the automatic. But when it comes to just enjoying a spirited drive? Yeah, the CTR wins big time. Still, the 3 is fun in it's own way, and it's not like I can't have fun in it - I can have plenty of fun in it. It's just a different fun compared to my CTR.

I also miss seeing that huge wing and the basically anime-come-to-life design of the CTR.

After I figure out my living situation, I definitely am going to save for a fun car to accompany my 3. Thinking of maybe a Civic Si, or a WRX; really unsure yet. One thing for sure, I want it to be manual, because I miss it!

P.S. I've seen every color of CTR minus yellow and white since I sold mine. What gives? Anyone in the Doylestown/New Britain area... especially if you have a blue CTR... I've been seeing you!