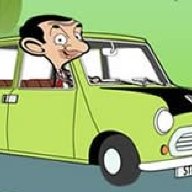 First Name

Geoff
Joined

Aug 27, 2018
Messages
Reaction score

1,498
Location
Car(s)

2018 Honda Civic SI Coupe. . . . . . . .1987 Nissan Maxima Wagon. . . . . . . . . . .1987 Nissan Pulsar NX . . . . . . . . . . . . . . . . . .1987 Nissan Maxima Wagon (2nd Donor Wagon for parts)

What a load of crap. I have never seen this unit update. I have yet to have virtually 90% of the apps actually be stable. I've tried several music players including those that you mentioned. Each has its own issues. But stability seems to be a theme Not to mention that, As far as I can tell, you can't even map your apps on the steering wheel. So when I press "source" I get to scroll through radio, video, TV, etc. the only one I would use is radio (and even that app sucks as its "presets" don't lock on the stations call letters or frequency so half the time when I look down I have no idea what station the preset is set to ) I can't map the source button to switch over to apps i'm actually using like a music player.
My phone hotspot is very hit or miss and requires me to spend several minutes before I go anywhere to make sure the unit is doing what I needed it to do
Now it sounds like you are a android aficionado who likes to play. Thats cool but That accounts for 1 %of the population. Most of us don't know or care about rooting or playing with a 100 apps. As I noted in my initial review I wanted it to do some basic stuff and do them well. I really don't give a crap that the unit has a TV or I can watch Jurassic Park. I think that's the problem in general with aftermarket units. They fill them full of stuff that most of us don't need or care about

The functionality of this unit is downright shameful. It's a shit show and I would tell anyone other than android programmers to stay far away from it.I've had it for a month now and it is nothing but a hassle. One of these days I'll try to do a full video review to just show how functionally ridiculous this thing is


Since I'm in for a penny I might as will be in for a pound and I got the Apple CarPlay dongle. I'm hoping to somehow make this unit worthwhile
100% agree.
On paper (website) it looks Great .. until you actually get it and try to use it.
Then all the problems present themselves.
Not exactly bait-and-switch, but pretty close.
I have not seen one CREDIBLE person report that this unit functions as advertised, or, at the end of the day, it is a better radio solution to the original OEM Honda Radio.
Now if only we could get, and fit the Honda OEM Head Units that the Japan market Honda owners have fitted to their cars from factory.
OMG -- apples and oranges ...