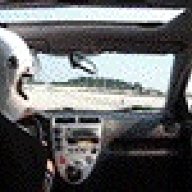 Joined

Apr 1, 2017
Threads
Messages
Reaction score

1,270
Location
Car(s)

'17 Civic Sport Touring Hatch; '17 CR-V EX. Formerly '02 EP3.

On the way to work, on a 50-mph stretch of road, two lanes in each direction plus a center turn lane, I saw a squirrel a little more than a hundred yards ahead.

Hop-hop-hop, it went from right to left, and made it into the turning lane. "Stay there, you'll be fine," I tried to mind-meld to the squirrel. So it stayed put.

Then there was a car coming the opposite direction. "STAY THERE, DAMMIT," I said.

Nope.

It panicked, then started hopping left-to-right when I was less than 20 yards away. Hop-hop-h-BA-DUMP-BUMP.

Dangit.

It's not the first little animal I've ever hit, and it won't be the last (the most dramatic was a rabbit that I hit square with the front license plate at 70 mph... knocked its legs off of its little body...). I hope they won't be any bigger, though.