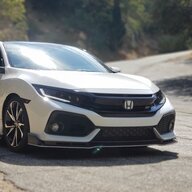 First Name

Alexander
Joined

Sep 24, 2020
Messages
Reaction score

8
Location
Car(s)

2019 Civic Si Coupe

First time poster. Just thought I'd share my own build after lurking around the forums way before i even got my car.
Little history on the car. I got it brand new at 5 miles on the odo. Currently at (+18k Miles). It's been about a year and half with it. Overall im loving it. Its my first New car I couldn't ask for more. Its fun to drive great gas mileage even after modding.
I did switch to Redline's 0w30 which I highly recommend it especially if you live it a hot climate or just pushing the car and also just in general tbh.
My Current Mods:
-27WON Front pipe
-27WON Downpipe
-27WON TIP (ON ITS WAY)
-27WON CAI (ON ITS WAY)
-EMANS CTR RETROFIT CLUTCH w/ KZCMC
-PHEARABLE STAGE 1 TUNE (used to be on TSP STAGE 1)
-EIBACH PRO KIT LOWERING SPRINGS
-ABSDYNAMICS "BODY KIT"(Front lip/Side skirts/diffuser)
-BUDDYCLUB CARBON FIBER STEERING WHEEL
-MORIMOTO XB LED HEADLIGHTS
-CARBONSIXTHELEMENT BADGES
-GLOSS BLACK ROOF WRAP
-Future modifications im think of getting.
-PRL Flex fuel kit.
-27WON W1 or W2 turbo just waiting on more info on the W2.
-Custom tune obv.
-Trying to get my hands on a GRC Wing
-Eventually if need be build the engine and transmission. but my power goals id be happy with 300-350 whp.
- Fully Adjustable Coilovers (dont know which ones yet)
- Fully Upgrade all suspension/Handling parts i.e Sways bars/Strut bar/ Endlinks.
That's about it for now. I hope some of you guys out there like my little build I got goin.