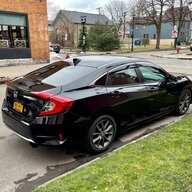 First Name

Robert
Joined

Jan 5, 2021
Threads
Messages
Reaction score

3
Location
Car(s)

2019 Honda Civic EX-T

I installed Michelin CrossClimate2 on my 2019 Honda Civic EX-T and noticed the following while driving since having them installed (keep in mind I don't have instruments or anything like that, these are just "eyeball observations" and the tires have only been installed for 2 tanks of gas, or about 800-820 miles):
(1) I hear them; if the all seasons originally sold with the car are a 2 on a scale of 1-10 on noise level, than the CrossClimate2's are a 3,
(2) fuel economy has dropped. With the original all seasons that were on the car when I bought it, I would average 36-37mpg per tank on regular gas. Now, with the CrossClimate2's, I average 34-35mpg. Both figures are respectable, but the difference is slightly noticeable,
(3) the ride comfort is a bit more firm due to the tire, but by no means it now jarring,
(4) handling in the dry, and normal temp's/conditions, they handle superior to the original all seasons. one way I've noticed this is on on-ramps, the new tires enable me to take most ramps with an additional 5-7mph,
(5) handling in the rain is like night and day; the original handling with the original all seasons cannot not even compete with the planted nearly invincible feeling I get with the CrossClimate2's.
(6) Initial brake bite has increased with the CrossClimate2's, other than that, I cannot tell if braking performance overall has improved or not; I have not been in an emergency situation yet to see how they handle further. (I suppose no change is a good thing.),
(7) I have not had an opportunity to test these in the snow yet.
I don't know if people know a lot about these tires, but they're claimed to be between an all season and winter tire (called an all weather tire), with the ability of being left on all year round, they're supposed to handle better and offer superior grip than all seasons in all situations, so I intend on finding out. I have not found a lot on sedans with these tires installed and thought I would share my experience thus far. So far I'm happy with the improvements these tires offer vs the original equipped tires. I am disappointed to see the fuel economy dip, but with the added planted feel and better handling I get, I'm willing to make that sacrifice. I hope I have periodic updates, and how the car does with these long-term. Would be interested to know if anyone else has had any experience with these tires?