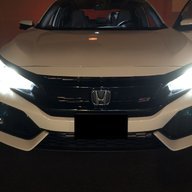 Joined

Jun 6, 2019
Threads
Messages
Reaction score

215
Location
Car(s)

2019 Civic Si Sedan, 2018 Odyssey EX-L

Anyone have these installed? With some of our members in europe sharing the availability of this kit it got me intrigued.
https://k-system.pro/en/product/bbkcivicxgen/
https://hondaperformances.com/gb/br....html#/376-brembo_big_brake_kit-no_brake_pads
The second link even has a wheel fitment template, which isn't very printer friendly, but works with a bit of massaging. If I printed it up properly with the correct dimension, the template is about the same size and no bigger than the Stoptech template. The 27won template has more clearance than the both of these for reference. Couldn't find a template anywhere for the Genesis brembo calipers but I think they are even wider?
I contacted k system about the total cost of the kit without rotors and pads and they quoted 859 EUR + 78 EUR for shipping to the states. The kit uses rotors from 350Z with brembos (324x30) which from a thermal capacity is a big upgrade compared to an Si (312x25) and even more so for non-Si. The 350z rotors are about 3 lbs heavier than Si rotors though. Not sure how much the Megane calipers weigh but I'm sure it's less than the Si caliper to make up for some of the weight gain on the rotors. Doing some further digging around, I think the piston sizing on the Megane calipers are 40mm on all 4 pistons compared to a single 57mm piston on the oe caliper. Not sure how much that affects the stock brake bias but someone smarter than me could probably give an estimate. And pad choice should be no problem as the Meganes uses the D1001 pad shape which the Evos and STis use.
Some plain centric rotors for the 350Z brembos are about $200 and then a decent set of pads are another $100. So looking ~$1300 for the complete kit. Intriguing option since the calipers are brand new, rotors can be had for cheap, plenty of pad availability, and quite a bit cheaper than 27won, wilwood, stoptech. Only question outstanding is if the brake bias is negatively affected.