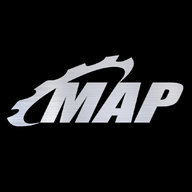 Joined

Nov 30, 2017
Messages
Reaction score

1,189
Location
Website
Car(s)

2017 SI Coupe

As we head into another weekend, I wanted to share some exciting developments with everyone. While we have been extremely happy with the performance of the stock engine, so far, I would be lying if I weren't to admit that I would never have expected it to last this long.
To recap, for those who do not know, our 2017 Civic Si has been subjected to two full rounds of product development and subsequent dyno testing, 3 clutches, 1 transmission (
for our most recent outing details, please follow this link: MAPerformance's 2nd day out at the track with our 1.5t Si turned up to 402.24hp
) three turbos, 55 full 1/4 mile track passes and yet, this stock engine, while still going strong, is definitely starting to show some wear as evidenced by this following snippet from one of our recent posts:
"we decided to drop the pan and make some inspections on the engine. Bearings are beginning to show some signs of wear... but are still healthy and since we are interested in determining the engine failure point, we put the bearings back in, re-torqued the caps and will send it. Current crankshaft endplay is at .0010 inch... according to Honda, acceptable range is from .0004 inch to .0014 inch...which puts us just over the hump of the middle... again, we decided to send it...BUT we will be installing a clutch pedal stop to avoid unnecessary damage."
​
Part of me is actually eager to see what power numbers we are able to produce before reaching the failure point, while another part of me keeps cheering on this little 1.5t... because it really has been amazingly stout. That being said... optimism might often be the best way to wake up in the morning and take your coffee, success on the track often requires planning that involves worst case scenarios. With that in mind, we have actually been working with several companies to develop prototype parts and get them installed so that HOPEFULLY, by the time other enthusiasts start to develop a need for solutions, they are already available.
One of the first technical challenges that we faced/face involve the size of the factory components. They are small... working on this motor is much like working on a motorcycle engine and while we are certainly up for a challenge, combining a small, lightweight package inside the constraints of the objective: "devise and execute assembly of high power capable engine"... that challenge is predictably daunting.
I won't waste anyone's time with the technical aspects of final measurements as it seems there have been several write ups and information is readily available that have covered the details of the L15B7 engine and variations, but for anyone interested in a simplified analysis, the L15B7 found in the 10th Gen family of Civics have a displacement of 1,498 cc (91.4 cu in) which is achieved through a piston bore of 73mm and stroke of 89.5 mm. This bore and stroke geometry appear to be identical through the family of engines although the factory rods of the Si appear to be somewhat harder, and the piston design is also a bit different... but for the most part, if one were to build an engine with forged internals, it would be interchangeable throughout the model lineup.
One of the first things we wanted to address was the block. The casting looks to be typical Honda high quality, but we wanted to increase the support of the cylinder walls. Luckily, CSS or Cylinder Support Systems was available to install one of their precision CNC support systems as seen here. I cannot speak highly enough of how slick this process is... designed to be non intrusive to the block, it effectively bolsters the support of the cylinder at the most critical compression zone of the sleeve.
The rods are very small... and they are not wide at all. I suspect that the design intent is to keep the inertia low... and by that method, the engine internals do not need to be extremely strong... in fact, if they are lighter, they can handle power because the forces imparted to the wrist pins and bearings are decreased as pistons change directions. I could also be wrong and it could just be that the parts are small because the engine is small and the whole design philosophy could have been focused on economy, but I have a hard time believing that as the completely stock engine in our test car is healthy and has been subjected to double the factory horsepower numbers without some measure of forward thinking from Honda. The main problem with this design philosophy is that the bearings simply do not have much surface area or support, because they are extremely narrow. Honda applies a coating process from the factory, I assume to provide some measure of additional protection against oil condition issues. While we are currently waiting for a Blackstone oil report, I can say that at our currently power levels, the bearings have begun to shed some material.
We are currently working with King Engine Bearings to supply a new race bearing appropriate for higher horsepower engines, but we don't expect those will be available for awhile longer... so for the time being we have decided to use OEM bearings but open up the clearances a bit.
We had our first set of connection rods made in factory geometry from Carrillo Rods and opted for the custom aged 625+ rod bolts. These rods weigh in at 82.6 grams more per rod, but we are hoping that the extra support and rod bolt that this change afforded will give us some extra power holding capacity. I have NOT weighed the pistons in yet, but I will try to get that done as soon as I can... but I am very happy about having more substantial wrist pins in place to hold everything together. These pistons were made custom for us from Wiseco.
***UPDATE***
Weights are in:
OEM Piston: 192.5g
OEM Wrist Pin: 72.0g
OEM Clips: 1.2g
OEM Rings: 11.2g
Total: 276.9g
Wiseco Piston: 218.1g
Wiseco Wrist Pin: 93.1g
Wiseco Clips: 1.7g
Wiseco Rings: 15.4g
Total: 328.3g
Obviously, we ran the block through our various processes... achieving a high, mirror like finish suitable for a MLS style headgasket on the deck mating surfaces, along with dialing tolerances into our desired specifications and normally, the rest is easy... but we ran into another small issue with the rods... they were substantially larger and wider than OEM as pictured above... to we had a lot of nervous time massaging the block to accept the rods through clearancing near the squirters.
Once clearanced, the final assembly really was straight forward and the final product speaks for itself:
MAP Prototype Shortblock Assembly
Rods: Carrillo custom H-beam connecting rods with custom aged 625+ rod bolts
Pistons: Wiseco custom stock compression ratio HD pistons
Bearings: OEM Honda factory rod bearings
Crank: OEM Honda Forged - polished and balanced in house
Block: CSS Support System OEM - Final machining in house at MAP
​
Last edited: