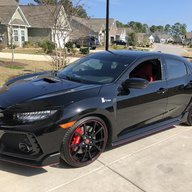 First Name

John
Joined

Mar 6, 2019
Threads
Messages
Reaction score

264
Location
Car(s)

2018 type R 2015 c300

I may have not posted here in a while but it doesn't mean I've disappeared.
Contrary to what many believe this isn't an easy just put a big turbo on and throw meth at it. You need to be able to repeat the results and NOT consider drivability issues acceptable!!!!
1st problem. You can NOT use the stock MAF housing. In 4th gear above 6000 rpm you will end up getting intermittent incorrect ecu calculations. It will start pulling target fuel, ignition timing, cam timing, injector timing from incorrect areas creating a very lean condition with too much ignition timing along with incorrect injector timing. You will feel the car what to bog or refuse to want to rev out to 7000 rpm. Regardless of methanol or fuel system you have on the car. The rampage MAF is good for about 520-530whp range without maxing out while I have not yet found the limits of Prl race MAF.
2nd problem. Dyno weather compensation isn't accurate in this style car so it should read uncorrected values. What is uncorrected??? It means remove the weather compensation and it shows what the car actually produced. The problem with compensation on this car is it doesn't use wastegate duty cycle. It uses aircharge. This basically means it will increase turbo output to achieve the same amount of power regardless of altitude or conditions provided it's capable. Example. I tuned a car in Colorado and the initial map made 415whp but the weather compensation was way off and corrected by a factor of 1.2. So it read as if it made 500whp on stock injectors. This is physically impossible running e40 as the factory injectors can't flow enough even on race gas let alone the higher demand on e40. Not to mention on the basemap he was no faster than a big turbo speed 3 making no where near 500.
3rd problem. Turbine side airflow. No matter how much compressor map you have it means very little if you can't get the exhaust gases out of the cylinders. Both turbine side wheels size and turbine side AR matter greatly. I was able to achieve peak hp at 7200-7300 rpm running the larger .92AR housing with the correct cam timing. What good is 500whp if you hit it for 200 rpm before it starts to fall off. This applies to drop in turbos that use the factory size .61 housing. That's all current drop ins.
4th problem. Stock fuel system. Throwing 1000cc of methanol at it won't work in the street without serious issues. Especially on stock fuel system. Stay in gear and go full throttle at 5000-5500 and you'll often experience misfires by either going way to rich or exceeding the fuel pump limit cause the stock ecu can't possibly calculate fuel correction for fuel it can't see that fast. Doing it right means a fuel pump upgrade. Even then beyond 500whp can be touchy with stock injectors.
5th problem. Stock injectors. As rpm increases no matter what you do because of the characteristics of direct injection. You will run into spark from the injectors being open too long. Stock injectors can't turn enough rpm.
6th problem fuel type. There simply isn't anyway outside of running e50 or some type of race gas to reach these power levels. Even with the upgraded injectors power started to limit about 520whp. I was unwilling to put more ignition timing as it is totally stock internal.
7th issue. Methanol distribution. Pre throttle body methanol injection does NOT fully atomize or vaporize!. If it did when you reached target beginning spray at low rpm it would instantly go rich. Instead it has to flow against gravity and can't be pulled in until it reaches higher rpm then you end up having soo much left over in the intake it again floods at high rpm when it can finally pick up the fuel sitting in the bottom of the intake manifold. Direct port methanol is the only way to overcome this issue. You must use a plate cause there are many complications trying to tap the stock manifold plastic.
8th issue. Do NOT use an exhaust with chambered mufflers or reduces to factory size at any connections I'll throw intercooler in here too. A 600 cubic inch intercooler core can not handle 600hp. It's max capacity falls into about 75 to 80 percent core cubic inch. It's one of the reasons I chose Mishimoto for its huge core which will easily support over 600. Ive already seen many 600 cubic inch size cores jump 50 degrees by the end of a 1234 pull on 450whp. That's definitely not going to work to make 600hp.
Now that all of that is out of the way we get to the actual set up.
2018 type r
Stock clutch and engine
Mishimoto intercooler
Xtreme DI fuel pump
Fk8 Tuning and Development 1400cc Injectors (my product)
Garrett g25-660 turbo.
Fk8 Tuning and development direct port methanol injection plate with 4 3gph nozzles and check valves
aem meth kit with solenoid
Fk8 Tuning And Development fuel line.
Invidia r400 catback exhaust.
Perform NC turbo manifold
Full race downpipe
Prl race MAF and intake
Hondata
While yes there is methanol here it was not used as a giant fuel substitute. It was 600cc total and ignition timing and turbo still had tons of room. Part of the ability to hit the 550whp has to do with the fact the injector upgrade has a better spray pattern. If I had used the meth as fuel supplement I could have easily made over 600whp with a bigger turbo. Contrary to what some believe the g25-660 would be extremely hard pressed to reach 600whp UNCORRECTED. I did not post corrected values as they are not a 100 percent true representation of the horsepower you are actually making.
Don't expect this kind of power to last. The factory piston ring tolerances are way to tight along with a lot of other internal clearances. Don't go believing everyone who says they are stock block over 500 meanwhile using antilag all the time without recourse. You can't possibly eliminate what antilag does as there's no tuning tables to actually change the way it's done in hondata.
Part of the key is torque control. This engine does have 2018 rods but there's zero proof of either being better than the other. I've seen later models let go below 400hp. The only seeming common factor is cylinder number 1 is the most common to eject a rod. It's a possible head casting differences between cylinders as I found 1 and 4 intake ports to be different along the outer walls towards the ends. It's possible it's why I've seen over all the cars I've tuned that cylinders 1 and 4 are more prone to see knock retard. This doesn't mean it's a flaw. It's literally a .75 degree difference between causing all cylinders to end up with knock. The main factors of engine failure are, overrun fuel system, MAF too small, running to lean, relying in knock retard, abuse and tuner or user error.
I've seen tons of tunes make power but the graph always has oscillations. I ran into this myself in the beginning. It had to do with a flaw in the values on the stock MAF scale. The problem is it with snow but longevity wise you damage the engine. You don't blow up right away cause of a bad tune and NO amount of tuning can overcome mechanical limitations of a stock engine. You should try to get an air fuel reading
I've tuned cars in Canda, Colorado, Australia, and local. Every combo you can think of on Hondata except the brand new g30-900 kit from rampage. Track only cars as well. Last thing then I'm out here. A true 450-460whp civic type r has the only power to weight ratio if a hellcat. A 500whp type r can outrun a hellcat on the highway. If your dyno graph says 475whp and you can barely outrun a Mazda speed 3 you might want to go ask for your uncorrected values.
Here a graph with afr and what it should be like even with or without external fuel. Also notice the power kept wanting to climb even at 7200. This is due to a good combination with the g25-660 and a .92 housing. This is zero methanol using direct injection only. This tune had no issues outrunning a hellcat at this power level.
Thanks for reading. Send me a private message if you want to know more.
As current numbers stand I believe 550whp in the USA this is the highest on Hondata. As far as uncorrected it's the highest known on hondata overall. I could be wrong but I can tell you I absolutely didn't swing for the fences out of fear of havingto buy a whole new block.
Thanks again hope this helps individuals attain realistic goals with the right parts.