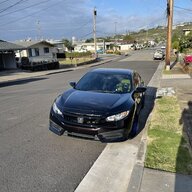 First Name

Justin
Joined

Nov 25, 2018
Messages
Reaction score

110
Location
Car(s)

2018 Civic LX Sedan 6 spd / 2019 Civic Coupe Sport CVT / 05 E46 M3 6MT Slicktop
Build Thread

**This thread will be the Yin to the Yang of all the slammed, 19x9.5 riding, subwoofer hauling, clear turn signal, 3000 lb 10th civics driving around with their sunroof open playing some hippity-hop crap***
Now that my title has fair-warned everyone, here's my project. A project I started out of sheer boredom with a car That's paid for and is so cheap that I just don't give a shiz if I mess with it.
Early November 2018 I bought a leftover 2018 Sedan LX 6MT in Burgundy Night Pearl. Actually got lucky in hind sight, as that color isn't available anymore and you can't get the LX with 6MT anymore.
At first I just added Eibach Pro Kit springs, ceramic tint and ditched the steelies and hub caps for Enkei TFR copper 17x8's. Same weight as stock with tires. Much better handling and looks.
drove car like that for over a year. Got bored and with my history of tearing cars apart to lighten them, I have gotten to this list of weight removed.
Weight loss
Rear seat belts 7.8
Speakers and head unit 6.0
Rear door panels, rear floor mats, plus hardware from all removed 10.0
Spare tire/wheel 23.2
Rear tan plastic trims 5.2
Rear seat bottom 10.0
Rear seat back 21.8
Rear trunk floor cover 2.6
Trunk tools plus gray foam 5.0
Rear parcel shelf 5.0
16" rpf1 swap 23
7.4 misc trunk stuff
3.4 trunk back release mechanism, armrest, trunk back carpet
=130.4
2742 - 130.4 = 2,611.60 lbs
Future plans:
rv-6 Catless downpipe
K tuner
Hybrid Racing shifter with center console delete
2021 LE Type R radio delete panel to cover the hole I have in my dash
Seibon Carbon hood
Shorai battery
Recaro front seats
Titanium lug nuts or maybe just Rays dura
De-tan rest of interior (buy A and B pillars from Honda and have headliner recovered in black)
De-Chrome front
De-Chrome side upper trim moldings
I've done A/C delete on cars in the past, but now that I'm 39 I think I'd like a feather-weight car with that one creature comfort left in. Time will tell.
looking for 2500lbs and 180hp. Power to weight better than all 10th models (except Type R of course)
the car is not fast by any means, but is significantly quicker. I can 1-2 shift lay rubber now haha.
Last edited: