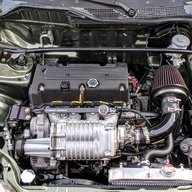 First Name

Tom
Joined

Jul 2, 2017
Messages
Reaction score

55
Location
Car(s)

1990 Civic Wagon B-swapped, 1998 Odyssey 7 passenger, 2005 Honda Element

***EDIT***
The pic with the line of Hondas is the "before" look at stock height.
Hey there! I bit of background info on me before I get going. Long time Honda head. Used to work at a Hondas-only shop for a touch over a decade. Was doing B swaps in my garage at 19 or so back in 2001-ish. Owned only Hondas, and I'm no stranger to suspensions swaps on them.
Bought the Eibach Pro Kit as a surprise for my wife for Xmas. We'd kicked around the idea of lowering it, and I figured it'd be fun to do it myself since I'm able. So yesterday I set out to lower the 2017 Sport hatch in my garage yesterday using only basic hand tools. It wasn't a terribly difficult job, but you have to be really patient with how the front knuckles are bolted to the lower control arms, and how you have to get it juuuuuust right to be able to drop the knuckles far enough down to get the dampers out without popping the inner CV joint apart in the cups.
I did not approach this from a technical write-up standpoint as I would have in my younger days, so the pics are very limited. I took the front dampers out, and down to a local dealer for a buddy to use their legit spring compressor to do the actual spring swap. The rears were so stupid easy that they literally took maybe 20-30 minutes for both.
The ride is fantastic, and the appearance is perfect. It needed to be comfy still, yet get rid of that stock gap. As you can tell by the last pic of the Honda line-up the springs did a great job of bringing it down just enough.
Enjoy!