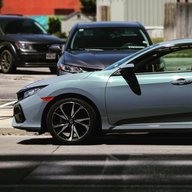 Joined

May 23, 2016
Messages
Reaction score

1,239
Location
Car(s)

2019 Honda Civic EX hatch
Vehicle Showcase

I apologize if I'm beating a dead horse and, yes, I've posted on a couple of other threads but I wanted to review these new Hikari LEDs and let people who are on the fence or unsure about upgrading their halogen setup that these updated LEDs are very good. And for the price: sub $50 it's about the best "bang for the buck" for LED bulbs, imho.
I've tried OPT7 before and they were horrid. I've tried upgraded halogens and they were only marginally better than stock. I had HID kits and, yeah, they offer the best throw and lumens on the road but the warm up times were a turn off for me. Not a deal killer but having instant on is nice.
Fan noise is hardly noticeable especially when the engine is running.
On the road, the lighting is at least 50-75 percent brighter than stock. There's a definite difference in the quality of light with color balance and throw. There's not as much scatter and looks more defined but the lumens is bright. Yes, it's brighter in the first 20 feet or so in front of the car but the fall off isn't as noticeable in the early versions of LEDs. It's more gradual and the reach extends as much as the stock halogens, imho.
Anyway, below are some pics and if I can help answer any questions, I'll do my best but there's a ton of info on the board already but I like I stated, I just wanted to share.
Fairly compact, no external controller (not sure if that's good or bad).
Hikari LED (left), Sylvania Silverstar halogen (right) - near perfect color match with LED DRL.
both sides Hikari LEDs
This shot was a quick grab and not the most representative but it gives a good idea about the brightness and throw. I know it doesn't look dark but the iphone does a remarkable job of making a scene appear brighter than it really was out there. You can see how it lit up the reflectors on the truck on the right and you can even see the throw go a little past the truck.