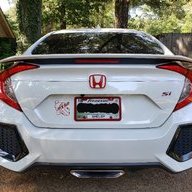 First Name

Jay
Joined

Aug 2, 2019
Messages
Reaction score

13
Location
Car(s)

2019 Civic Si Sedan- Daughter 2012 Civic Coupe - Son 1999 Civic Coupe

I purchased a KTuner V2 and TSP Stage 1 tune from TSP for my 2019 Civic Si Sedan.

When I first flashed the ECU with the stock Stage 1 everything worked.

I started making some changes to the Stage 1 and the KTuner Started 19.5/23 and loading them ad comparing to see which I liked better and how the different options worked.

Somewhere along the line several things stopped working.

Launch Control stopped working properly on both KTuner and TSP.
When it would hit the TSP 3000rpm or the KTuner 4600rpm at WOT the car would bog and I would get a .8psi boost.

WOT NO LIFT shifting stopped working, I will shift at WOT without lifting and my RPMs would JUMP to redline. Ive tried WOT shifting at different RPMs none work.

DISABLE REV HANG does not work anymore on either KTuner or TSP

Then even went back to the stock TSP Stage 1 as delivered no changes and these items still do not work.

The tune works I have much more boost and HP and torque when driving it is just the add stuff that will not work anymore.

it is like my ECU is not excepting the whole tunes.

I even went back to the Honda Factory ECU tune and started over. Still does not work.

Has anyone else had this problem ?