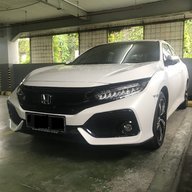 First Name

Arnoldo
Joined

Nov 28, 2019
Messages
Reaction score

313
Location
Car(s)

2019 Honda Civic Hatchback

i do agree with them in a way, since your engine will be rebuilt so must as well, if you did your research the base pistons are base pistons, you can match up with an Si piston or go aftermarket, what's the point of just changing the conrod only also your comp ratio is lower too just fyi.

How's your adventure with KTuner after switching over from Hondata ?
Noted. I can understand your perspective much better than what has been explained to me by local workshop/tuners. Local workshop told me that stock piston will not fit any aftermarket connecting rod such as Saenz and BC so their reason mainly because piston fitment issue on the aftermarket connecting rod.
Would CR-V/SI connecting rod piston durable enough for bigger turbo upgrade?
My adventure with KTuner is great and sweet! I don't need to spend every weekend running my car like I stole it for datalog run to fix my fuel trim. I use KTuner stock WOT Enrichment for partial throttle/close loop and make adjustment for the open loop WOT to make sure I don't run too rich in open loop but also not too lean.
STFT now within +/- 15%. I believe it should adjust to +/- 10% after a few driving cycle because I notice the ECU is "learning". I spend almost a year with the other platform to get my fuel trim below +/- 30%.
I should have listened to you and
@D-RobIMW
. Corey from TSP and DRob helped me with MAF adjustment when I purchased TSP Stage 1 for Non SI for the other platform and even that didn't help to get my STFT right.
I'm trying to learn and understand internal build a little bit better now. I may consider turbo upgrade if CR-V/SI conrod and piston combo replacement is better/more capable of handling higher pressure from bigger turbo than Civic 1.5T hatchback internal.
by the way how you can test your engine on dyno with cvt? it never show the correct information. because there is no 1 to 1 engine and transmission ratio so for cvt dyno datas are not showing real worlds ideas.
Well... we have paddle shift. Although it may not be real world numbers but it is sufficient to see the gain we get from tuning.