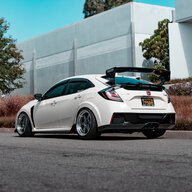 First Name

Justin
Joined

Sep 20, 2017
Messages
Reaction score

224
Location
Car(s)

E46 M3, '17 CTR

Alright so I caved in with going semi-mental on building this daily into...errrmm.....something I still daily but is questionable to be daily-ing hahaha. Anyhow little bit of background on me as I want to make this more of a "Justin did some stupid shit to cars so it must live on the forums" kind of thread.
I've been modifying cars since 2001 with my first build being a 96 Civic dx coupe. Went full ham on it with a built b126a2 w/ vortech sc and feel's rep widebody and Advan RGs in gold.
Then I went onto a more autocross focused 2005 Impreza Sti in 2004. Kept that car mostly stock but did everything Cusco and did a few scca events and a lot of spirited driving back in Hawaii.
In 2012 I had already been living in SoCal for 6 years and was career focused with my photography degree so the Sti was just a commuter car in Cali. Ended up selling it as is and picked up a 2012 Fiat 500 Abarth....everything snowballed very quickly and I ended up doing the whole show and go with it for about 4 years.
2016 I picked up a 2004 BMW M3 my fiance and I just moved into our new home and I was honestly most excited to be able to work on my car whenever. Before this we were in an apartment so I never had the chance to really tear apart the Abarth with my own hands as much as I would have liked to. The M3 is still with me and is just sitting pretty in the garage. It was a bucket list car for sure and I still have more plans for it as soon as I have the time and money to go even further.
2017 in Nov I picked up a Civic Type R in CW...as that's the only color they're allowed to be in. jk jk. Reason was to honestly get something with 4 doors again....and to keep it kinda stock. But yeah that didn't really last long and now I'm sitting here typing out a thread as the Type R has gotten to the point where I want to document what changes it'll undergo.
For those that stuck to the end of this chest puffing filled history on my poor financial choices I thank you and hope you enjoy seeing my current build progress.