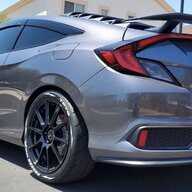 First Name

James
Joined

Nov 10, 2019
Messages
Reaction score

187
Location
Website
Car(s)

2017 Honda Civic Si Coupe
Build Thread

My first build in years, and my first build journal.
Well, hello! I'm JSR. I'm a Twitch streamer/speedrunner by trade. I work from home, and I'm 36. So yes, I'm always broke. But that's ok. I have always had cars to make into money pits and still move too slowly; my previous eBay builds include a 1990 Toyota Celica AllTrac, a 1998 Mitsubishi Eclipse Spyder GS-T, a 2004 Toyota Celica GT, a 1990 Nissan 300ZX (N/T sadly), and a 2008 Mitsubishi Eclipse Spyder GT. I have pictures of each somewhere, but I'm lazy. Besides, none of them match up with this: my 2017 Honda Civic Si Coopay, "Essa". My Modern Steel Metallic Mistress. She's a Libra.
Purchased in October 2019 for $24,000 USD, she is my first modern car in a while, as something happened to the economy, and I had to sell my Pokemon cards AND my '08 Eclipse and drive a 2000 Chevrolet Malibu for 4 years. It was as awful as it sounds. And yes, it was that bad. Like, Coyote Ugly bad. Like, hanging out with DJ Khalid and Fat Joe and having an argument with them over which 1990's Jordans were the most iconic bad.
I wanted the car to be a clean build, with enough personality to make Taylor Swift wish it was a dry heat outside, but not so much as to scream out the name of our favorite side dish for teriyaki chicken. I added some Ikon Motorsports rear-window louvers, painted in color-matched base-clear. Of course that means that, along with my limo tint all around, I can't see a damned thing out that window. That's ok, at least they won't launch off the back of the car and hit an old lady on a Harley or anything. To be sure, I beaded some clear silicone around the mounts to protect from water, and to help support the 3M tape. For extra vision-blockage, I currently I have AVS window visors on the car, but hopefully soon I'll have Ikon Motorsports' coupe version, which should look so much better than these. It will be like upgrading from a taco, to at least TWO WHOLE TACOS! That... makes no sense, so I'll just say I think they look COOL MAN and give at least +69 HP. I also dipped the H in the rear and did an emblem delete. I want them to THINK my Si is really a sport or something. Yeah man #sleeperstatus #wontseemecoming #Iliveathomewithmymom #stancelifebro #dopeopleevenusetheseanymore?
Ceramic coating all around helps the paint shine until the next Vegas dustdevil, which gets dirt on the paint as well as my Enkei TS-10 18" wheels, sitting on 20mm spacers, wrapped in Toyo Proxes R888R's (235/40ZR18's). To close the gap in her teeth, she bounces on Swift Spec-R Springs (I wanted to keep the stock dampers, so I decided against coilovers). Now, I can chip away my tire painted letters AND my rims when I hit a curb at the 7-Eleven!
No, those aren't gray tacos smooshing any ol' eBay rotors, there. No, sir. Those are Wilwood 4-pot calipers sitting on 12.6" rotors in front, and I have PowerStop drilled/slotted rotors in the rear on carbon ceramic pads. Extra stoppage power. Now I can stop BEFORE the radar says I'm doing 120. Which is bullcrap, I'm SURE this car can do at least 125! The brake lines are swapped on all 4 wheels for braided stainless steel, pushing Motul DOT-4 fluid. I can't wait to show them off at my next car meet. Last time, I had to bribe someone with dinner to get them to look at my brake lines... I wonder if I can get away with a soda next time...
As any responsible driver will tell you, you want to see the pedestrians before you nearly hit them with your car as you take instagram selfies. So I installed LED lights all around, in the head/fog assemblies, the dome lights, and even the tails. Don't tell me that incandescent lights are better, ok? That's your opinion, just like saying Beck is a good band. I like LEDs. I added some LED lamps where the stock rear reflectors sit, as well as Unity side markers in the front. The headlights and foglights are OPT7 LEDs (not shown in pics). Extra stoppage! If you can't see me braking in front of you, take your damned finger out of your nose and/or put the milkshake down!
I'd be a fool if the car couldn't back up the looks, so I've done a few mods to put some beans in this here chili pot. My first mod was, sadly, an Injen CAI and a Boomba BOV. Yes, I was that guy. BUT I LEARNED! Thanks to you all! I found CivicX.com and those now sit in a closet, covered in old copies of Contra and my 2011 Fedora hats from my sad and lonely phase, where they belong. Instead, I have a PRL Cobra (race MAF) CAI feeding a Phearable 2.5 tune through a KTuner 1.2. The juice gets mixed at E35 and fed via a PRL Flex Fuel Kit, with a Mishimoto Oil Catch Can to handle any of that awful blowby or whatnot the car coughs up. MSD lightning hoses put some spark in her skirt. After she gasps, the gasses feed down through a PRL Catted Downpipe into an AWE Touring exhaust with 3 lovely tips.
For those lovely motions to hit my ocean, a 27Won Rear Motor Mount gives me a free booty massage as I shift my Acuity Short Shifter and Acuity Linkage Bushings made it buttery smooth. I heel/toe and do-si-do with an Acuity pedal spacer, which I never use because I granny shift and I don't double clutch like I should.
Please mind the doggo hair everywhere. I have a shiba inu. He's a doge. Yep. He's not a car mod, but he's a really good boi
His dog hair has to have somewhere to stick to like bondo on a CRX, so I have done some nifty little interior mods that will probably fade in 2 Vegas summers
in front of my very unattractive knees, you see a Buddy Club carbon steering wheel. Yup. it's an awful picture. I'm a speedrunner, not a photographer, and it was 119 on the dashboard so don't you give me any lip mister! You might even see my Lloyd Mats custom Red-piped floormats!
the trim around my lovely Acuity shifter is wrapped in suede, with a red suede DBoy shift boot (that which, along with my Acuity oil cap, was sold to me by the wonderful
@Jdmcivicd2
). A weighted lovely fingerprint-magnet of a Raceseng Contour shift knob allows me to money-shift with confidence.
At the top of the dash, where the supposed cold air from these wonderful 10th-gen rock-solid never-whistly A/C's blow, I've flocked things up bad. Here, you can see my flocking vents and gauge trim.
Luckily, my wonderful Honda Hack gauges distract from the Bob Vila behind the wheel. LOOK AT THE PRETTY BOOST GAUGE GO WHOOOOSH!
Yeah, I even put suede around that. Beat that, Mr. Super Street. (I was just kidding, it was Sunday and I was bored and I ordered like 20 feet of that crap, ok? I have to use it somewhere!)
I have some carbon trim pieces coming. But they're in some far away land, just like my crypto when I gave my seed phrase to that guy that said I won like 35 BTC that one time. Hopefully, they get here soon, and I can update this journal just like everyone surely does. Everyone updates their build journals, right? It only took me 2 years to start mine, so I'm sure I will
Thanks for checking out my build. It's easily a 10 second car. I won't hear anything less. Now excuse me while I go hit this McDonald's drive through. Those McFlurry machines won't break themselves, you know. Besides, you KNOW those cashiers are checking out my flocking dashboard, bruh.
THE TL
R MODS LIST IN SUPER-SERIOUS ORDER OF NO IMPORTANCE:
GO
-KTuner 1.2 (w/ Phearable 2.5 Flex Fuel tune & HondaHack)
-AWE Touring exhaust (3-tip)
-PRL Catted Downpipe
-PRL Cobra Cold Air Intake (Race MAF)
-MSD Ignition Coils
-Mishimoto Oil Catch Can
-PRL Flex Fuel Kit
-27Won Rear Motor Mount
-Megan Racing Strut Tower Brace
-OEM Type-R Subframe Brace
-Acuity Shift Bushings
-Acuity Short Shifter Assembly
-Acuity Pedal Spacer
SLOW
-Wilwood 4-piston front brake calipers (w/ stainless braided lines)
-PRL-sourced 12.6" front rotors (w/ Hawk Carbon Pads)
-PowerStop rear rotors(w/ PowerStop Evolution Pads & Goodridge stainless braided lines)
-Motul DOT-4 Racing Brake Fluid
-Toyo Proxes R888R Tires (w/ Enkei TS-10 wheels)
SHOW
-TheNice trim pieces (flocked in red nylon fibers OR wrapped in suede)
-CarbonSixthElement Carbon Fiber accent pieces
-Pegasus Carbon Fiber accent pieces
-Raceseng Contour shift knob
-DBoy Suede Shift Boot
-Buddy Club Carbon Steering Wheel (w/ carbon fiber accents)
-Ikon Motorsports Rear Louvers (painted OEM base-clear)
-Acuity Oil Cap
-Spoon Brake Reservoir Cover
-autoCOVR stainless deadpedal cover
-OPT7 LED Head/Foglights
-Unity Performance Clear Corner Lights
-iJDMToy Rear reflector LED lights
-OEM Civic Type-R Dashboard Trim Pieces
-Lloyd Mats Red-Piped custom floor mats
-CupHolderHero inserts
-LED red accent lights under the dash (wired to an OEM-Style switch)
-Custom Suede trim accents
-Ikon Motorsports window visors.
FUTURE (These are already purchased, but not installed on the car yet)
-None ATM (will update soon!)
(I will update this post as I go in case anyone wants to see, but I will not replace the photos or writeup above. That will remain as it is today, so I can look back on the past, so scroll down if you want to see new pics of Essa)
Last edited: