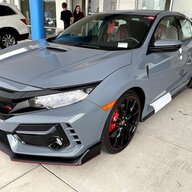 First Name

Alex
Joined

Nov 13, 2018
Messages
Reaction score

555
Location
Car(s)

2017 M2, 2005 WRX Wagon, 2013 X5M, 2019 Type R!!!

I too was interested in an STi before getting my CTR. I never drove one but got a lot of similar thoughts like Driveitlikeuboughtit. I always thought the Subies were such cool cars with the turbo and awd and racing heritage so they were near the top of my list but:

Poor gas mileage
Boring interior
Stiff ride not suited to a daily driver
Awd as mentioned in previous post does come with benefits but also at a cost
Head gasket leaks
But I think the biggest thing to me, and I don't know the percentages, but the 2.5L engine is a dated design and some of the engines suffer from ring land failures which means engine rebuild. A coworker had an STi and steered me away from getting one. Forget what year. Maybe 2016?

I still like and respect the STis and would love to see what the next gen version looks like.
That's about where I sit - I mean how is this even a contest - Direct Injected 2.0 liter versus 2.5 from another generation that has known flaws and issues with blowing up.
Tough call I'm so on the fence here!