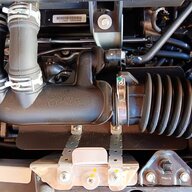 First Name

Red
Joined

Aug 10, 2023
Threads
Messages
Reaction score

22
Location
Vehicle(s)

CRV 2023 (2022 USA)

Boy was it not obvious where I should place my post. Looking to expand my knowledge of the 2023 1.5T in my CRV I first went to the obvious place, a CRV forum, and was told to look here because CRV owners 'just drive 'em'
. A few months of monitoring and yes, the most such owners appear to worry about is Apple Play.
But I'm an inventor by experience, have made my living that way all my adult life; and more recently a researcher and author. None of it in automobiles. But when I went to JC to study to become an auto mechanic and eventually found myself in the college's most advance auto class, the other men there on the GI bill chose projects such as measuring oil viscosity and I borrowed the scoo's Rajay turbocharger and built a turbo system for my Pinto with German 2.0 OHC crossflow motor!
Many decades later I've fiddled with my months' old CRV and came up with this, attached.
Fun to consider, and surely not suited to sub zero temps that could include ice, sleet, and snow. The Honda air box itself will handle locusts and even rain because the heavy stuff has to fall below the air filter that is a K&N in this cas, then blow up through it to the engine. But it does seem plausible that changing from hot, turbulent air from the radiator (the rubber panel beneath the factory intake) to cool, laminar air from the forward edge of the hood/bonnet, plus velocity of the vehicle traveling 110 km/h freeway speeds (65-70 mph) for further cooling, can only lend an assist to the factory setup.
Won't be doing any more than this because it's in factory warranty for a long, long time. Have to say I'm disappointed in the modern ways, such as the OBDIi readers, when it used to be an old-school boost gauge would consistently give an answer any time, every time; such as on my Ford Mustang SVOs (had three). 6 psi boost max, anyone, according to the OBDII readers? Unlikely, eh? Mine is the L15BG (FFV) Thailand motor and goes like a scared bat.
Feel free to say 'won't work' because I have only my seat-of-the-pants meter given that my two OBDII readers give no results that I'd consider accurate or reliable! And the local dyno chap sneered and said to me 'we only do race cars'.