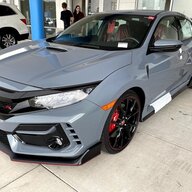 First Name

Alex
Joined

Nov 13, 2018
Threads
Messages
Reaction score

3,621
Location
Vehicle(s)

2017 M2, 2022 Audi RS3, ex2019, now 2021Type R!

So I had the 19 as most of you know, loved it - ended up selling primarily because the ride was too sharp for my wife with her back issues, so I was finding myself driving around solo more often than not.
Took advantage of the high sales prices - sold my 19 for 40k with 15k exciting miles on her. (I bought my 2019 for 35,750!!)
After going back and forth with things I was pretty settled on the 2022/23 model, and was open to seeing what it would be when it arrived. One day my wife and I test drove a used Type R, 2021, to see if the suspension made much of a difference - IT DID!!!
So I was torn - and still undecided. Until we went to a Honda dealership to check out a standard 2022 Civic that they had, to see how we felt about the interior and such. Honestly I really hated it.
For me the screen being way up on the dash was jarring and neither the wife or I liked the AC solution (that looooon plastic vent thing)
So my wife gave me the green light to try and find a 21 - And here we are! I was able to find a Type R just a few miles from me at Tomball Honda and worked them down to 43k. Yes, 4k over, but at the same time with the profit I made on my 19 I feel like I am juuust under sticker when all the dust settles. (Tbh this car is a steal at 43 for how it drives)
So a new adventure begins!
First impressions -
- 21 shifts a lot better than the 19 which surprised me, as I considered the 19 to be just about perfect.
- The suspension and modes are much more differentiated, and therefore useful (especially for my needs)
- Fake engine noise - I have a screwdriver ready - say no more
- Steering wheel material - Unsure, I think I like it? And I don't have sweaty hands by nature so I'm giving it a chance. One thing I do like is the prospect of a steering wheel that won't get scratched by a ring or watch by mistake so I am leaning towards like?
- Hondasight - you know I was a giant bitch baby hater about it, but I didn't turn it off when leaving the dealership and didn't notice it doing anything the whole way home. Maybe it's broken and I got lucky, or I'm driving too nice to get annoyed by it. I'll research how to disable and tweak so the car doesn't decide what it want's to do for me - unexpectedly.
I got them to do bare minimum PDI - did the paperwork and drove her home! 8 miles on her when I drove off the lot!
Already bought -
- ZL1 rockgaurds (meant to install at dealership, left at home like a noob lol)
- Perrin rear motor mount insert - this thing should come with it pre-installed imo lol
Long term plans are to autocross this one and keep it as long as possible