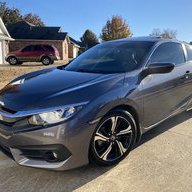 First Name

Dylan
Joined

Apr 19, 2019
Messages
Reaction score

14
Location
Car(s)

Honda Civic 2017 Coupe EX-L

Hey everyone, today I added the volume knob to the pre-2019 infotainment system in my 2017 EX-L Coupe!
I know many may think it's not worth it, but seeing as many 2016-2018 civic owners miss the volume knob, this was something I was very curious about.
I searched all over the forums and web, and all I saw was one post mentioning them doing this to a 2018 Type-R, but not a 2016-2017 standard trim civic without navigation.
After finding the 2019 stereo on eBay for less than $200, I bought it to see what would happen. ALL YOU NEED IS THE SCREEN! It plugged in exactly as the standard screen did, and everything works perfectly.
However, the issue on the 2016-2017 civics is that the EQ can only be accessed through the "Menu" button on the side. On the 2019, there is no menu button, and instead it has the "Phone" button. But I was surprised to find out that the "Phone" button just does what the "Menu" button did! So I didn't lose access to anything, and gained the volume knob and buttons from the new civics.
Here is a quick video I shot showing all of the functionality working: