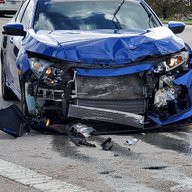 First Name

Jairo
Joined

Jun 29, 2017
Messages
Reaction score

178
Location
Car(s)

2019 Civic Type-R
Vehicle Showcase

Yesterday when I was arriving home I started smelling burnt oil, As soon as I parked I traced the small to the back of the car and the whole back was full of oil, from the exhaust to the wink, all trunk full of oil, this is the first time I see this, So I jumped to the Type R reddit and asked there, they suggested it was an oil leak, and that oil was going leaking into the engine and burning at the exhaust, they told me not to start the car and to check the oil level, when I checked it was completely empty So I went and bought 5qtr, I started filling the tank and about half way I started earing a heavy rain like sound and a pool of oil at my feet, when I look underneath the car there was an oil shower going on, not just small leak but literally like a shower with many streams pouring oil. So obviously the car is sitting at home in parking spot, didn't turn on the car at all.
Last oil change was about 3 1/2 months ago and was done at the dealership. Right now it was I think at 60%, I don't put too many miles on the car.
So my questions are, what could have caused this, I have to point out that I did sprint for about 1/4 mile, I don't know if that could cause something like that since this car is designed to do that. Does it look serious? did I do a lot of damage driving it for who knows how long with no oil, why the light didn't turn on? I didn't check for spillage this morning so maybe there's a chance it wasn't empty while driving but rather drained overnight?
I won't start the car nor drive it to the dealership, I will have to call a tow, but I'm afraid the tow would do some damage to the car, is there any specific type of towing truck for this car? I used to have a VW with a body kit and once I needed it towed, 2 tows refused because of the low body and 1 did but broke the front lip. It was a cheap body kit so I didn't care but I definitively care about my CTR so any advice will be highly appreciated.