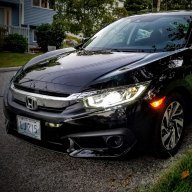 Joined

Aug 10, 2016
Messages
Reaction score

71
Location
Car(s)

2016 Honda Civic EX Sensing

I just went though a long arduous process but I managed to get all the scratches out of the head unit. You may have noticed that this thing scratches really easy and its not the plastic that scratches but a spray on anti-glare coating.
I was vacuuming my car at a car wash. I passed the nozzle over the screen to suck up the dust and created some very light scratches. I was pissed at myself and pretty amazed that the plastic nozzle scratched the screen. You can scrub scratches with toothpaste to get them out. This took a while and made them a lot less noticeable. One area where I scrubbed to hard was shiner than the rest of the screen. I was not happy with this. For one thing the scratches were still there, and now there was a shiny area with some coating missing.
I started researching everything and found in that section I had worn away the anti-glare coating. I found a number of instances of people having similar problems on computers, cars, and glasses where they removed the anti-glare coating. I started looking for the best way I could remove it. I saw people recommend oven cleaner. I found a few instance of people screwing up the coating on their car screens with Plast-X (or Plast-Rx in Europe) and them "finishing the job" to remove all the coating and their screens looking fine afterwords. The package says not to use on displays but if you don't head that warning you remove your anti glare coating.
I was very apprehensive about trying this. I'm very OCD about my car and want everything perfect. I wasn't happy with the mildly scratched up head unit. I figured I would try this and if this goes wrong I'd have to buy a new $400 display.
I was fine trading no anti-glare for no scratches. And in retrospect the anti-glare coating does not do much. If anything, taking it off makes your colors brighter. Removing it takes a long time but will remove all your scratches. Even if the scratch goes below the anti-glare coating you can polish the plastic underneath to remove the scratch. Skip the toothpaste. I would recommend getting these things:
Meguiar's Plast-x
Meguiar's ScratchX 2.0
Stoner Invisible Glass
Microfiber cloth
Paper towels
ScratchX 2.0 is a finer grained version of ScratchX. If your scratches are light enough you might be able to get rid of them by lightly rubbing some of that on without ruining the anti-glare coating.
Stoner Invisible Glass is the only streak free glass cleaner I have found. It works great inside and outside, on gauges and displays.
What I did was take all the anti-glare coating off with Plast-X. Polish in small circles using the mirofiber cloths. Put paper towels over your passenger seat so you can put your soiled cloths on it and not get it dirty. You might want to tape off any cracks around the screen. If you get any Plast-X in the cracks you can get them out with an index card which is what I did. Be careful of the silver trim below the screen because its painted silver and if you rub the Plast-x on it you'll turn it black. (I almost did this) Use the Stoner to clean the screen and to get all the Plast-X off periodically so you can see how its coming out. Use separate microfibers for that.
It takes hours but I did the whole screen. I then went over it with Scratch-X 2.0 which makes the screen very smooth. There are absolutely no scratches now. Even in glare the screen is readable. Its just very light. If you feel like you really need an anti-glare coating, you can get screen protectors that are anti-glare. I did read something about a spray on coating as well - and buying that after doing this would be pretty sadistic to yourself.
Here is before:
Here is after:
Its hard to capture the scratches and you really can't see much difference. The scratches were only visible when the light hit the screen from a certain angle. What this does show is that even after removing the anti-glare coating the screen looks fine and you'll have to take my word for it that all the scratches were gone.
If you try this, be careful, and take it slow. I'm not responsible if you screw up your car.
Last edited: