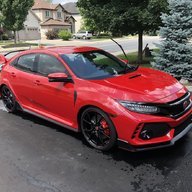 Joined

Aug 10, 2016
Messages
Reaction score

598
Location
Car(s)

2004 TSX (Euro-R mods), 2009 Acura TSX, 2008 MDX, 2011 Shelby GT500, 2018 Type R, 2020 MDX A-Spec

I could be WILDLY wrong and there is a temp sensor, however, all temperature of any liquid can be calculated by pressure. It's (advanced) basic mathematics. The downside is It's way too complicated for my simple mind.

When I did HVAC we went off Tables (where someone else already calculated the temp based off pressure) and it was 100% accurate. Honda can do the same thing. Besids... an "actual" oil temp sensor is still working off voltage conversions.
If, (although it sounds like this might be correct) that the oil temperature data will only be
extrapolated
from oil pressure - all I can say is
Having come from a career of flying airplanes, and as anyone who pushes a car engine hard can tell you, you want both accurate oil pressure and oil
temperature
readings. You do not have the whole picture if one is just an extrapolation of the other. Far too many things can go wrong, and if they do, you want both real values, as it can go a long way to help you better understand what may be going on or about to go really wrong....