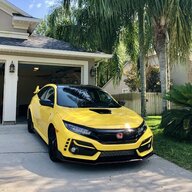 Joined

Jan 14, 2016
Messages
Reaction score

226
Location
Car(s)

2019 CTR #24,174

So many dealers say "come in for our best price." That doesnt tell me anything. Your "best price" might still be $47k.

I only got 1 out of 50 dealers to tell me their price over email, and that's where I'm going. Didnt even need to negotiate, they were more than happy to sell to me at MSRP with no pulling teeth. They just want to sell cars to people who want them

I pick it up Saturday. I'm so excited.
My purchase last March worked out the same way. I made dozens of calls and emails to dealers hundreds of miles away over the course of many months. Finally, a dealer 3 hours away had an asking price that was precisely MSRP (I discovered via email using CarGurus). I did run into 2-3k ADM where they would elude to a better deal if I showed up at the dealer, which is impossible when you live far away. Post up some photos when you pick up the new CTR!