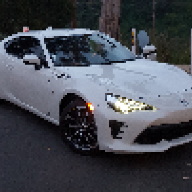 First Name

Louis
Joined

Feb 25, 2019
Messages
Reaction score

2
Location
Car(s)

Honda Civic Hatchback Sport

Hey CivicX,
New member here. I've recently purchased a Honda civic FK7 Hatchback sport (Rallye Red). I spent some time looking for the exact one I wanted and negotiated a brilliant price for it. To me, it's a gem with a 6 speed Manual Transmission.
I picked it up at a great price during negotiating because, my civic was previously a lightly modified car and returned to stock by the last owner who only lowered the suspension including rolling the fenders (engine untouched; wheels were powder-coated). The previous owner did a TERRIBLE job, and has resulted with severely cracked paint. The metal on the fenders are clean/flush, except for one slightly dented rear quarter panel at the fenders (The light "bends" in the picture vs. the pic with the rim has a clean body line). [Pictures Included; been raining recently]
I do have a paint job and body work shaping lined up at an auto/paint shop. In the future, I plan on lowering the car, but I really wanted your guy's opinion on whether I should re-roll the fenders cleanly (eastwood method w/ heat gun) as well as reshaping the metal on the one quarter panel before applying a new coat of paint.
Thanks for the read!