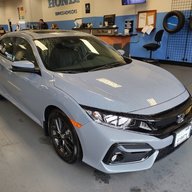 Joined

Jan 4, 2020
Messages
Reaction score

4
Location
Car(s)

20 Civic Hatchback EX

Hi there,

I have a 2020 Civic Hatch EX. Recently I found that the head unit would take about 1 minute to start when I cold-start the car(I know it's hot outside in the US but let's say cold-start as it parks on the parking lot for a couple of hours or overnight).

When the head unit is starting under that situation, I could get the rear view but without the guideline if I change to R gear.

However, the starting time is reasonable(less than 10 seconds) when it is not a cold-start, which is, for example, starting after I turn off the car.

Does anyone have the same issue?

------------------------------------
An update:

Seems like the slow start of my head unit is mostly related to the temperature.

It was normal in recent 2 starts which are 84F and 97F respectively, when I started the car in the morning and night.

I've ordered a sunshade for windshield. Let's see if it will make it!

------------------------------------
A new update on Aug 9:

Now it becomes randomly, not depends on the temperature. The sunshade doesn't make it better, unfortunately.

It is very annoying because the Bluetooth will not work if the head unit doesn't, as well as the guideline of back camera. I will visit the dealer next time for it.
Last edited: