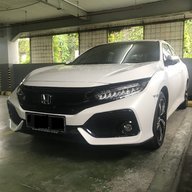 First Name

Arnoldo
Joined

Nov 28, 2019
Messages
Reaction score

129
Location
Car(s)

2019 Honda Civic Hatchback

I've gone through an interesting learning curve in tuning using Hondata Flashpro.

I'm thankful to have friends in community willing to help and provide insight and feedback regarding my understanding on tuning parameters no matter how silly my question may sound.

One topic I find difficult to learn in Flashpro is Ignition Timing tuning area. This tuning area has become even more challenging because Hondata does not give user access to actual Ignition Timing area.

Instead, Hondata only allow users/tuners to tune ignition timing through EGR ignition (part throttle) and Knock Ignition Limit. The explanation Hondata provided in help file, YouTube video, and other resources regarding Civic X 1.5T ignition timing is not clear.

I tried Knock Ignition Limit tuning once and the result was great in terms of knock control and knock count as well as power but I need to revert knock ignition limit tuning back to stock because I heard mild pinging sound from my engine and knock control raised during partial throttle.

I would like to explore how I should start tuning Ignition through Knock Ignition Limit and EGR ignition.

I hope friends from Civic X forum are willing to share knowledge regarding Ignition Timing tuning for Civic 1.5T using Hondata Flashpro.

Tips/guideline of basic how-to is highly appreciated.