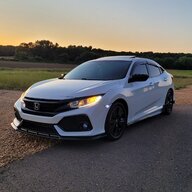 First Name

Ryan
Joined

May 11, 2021
Messages
Reaction score

247
Location
Car(s)

2018 Honda Civic EX-L Hatchback (CVT)
Build Thread
Vehicle Showcase

Couldn't have said it better myself. This was my first brand new car I've purchased and as such I've grown attached. I also figured 2.0 > 1.5 for displacement and knew the 2.0s of the past were pretty robust when I went to purchase the car. I did not know that in order to slap on a turbo/supercharger you'd have to run a standalone ecu, custom order all engine internals because a lot of them aren't the same as the C1-C4s, and didn't know that aftermarket companies would overlook this engine configuration in favor of the turbos.

I spent a good amount of time looking up part numbers and seeing which were used in both the CTR and our 2.slows. Very few parts carry over and the ones that do aren't worth swapping because they will net you little gain if any. One of the main advantages the other K20C's have over this engine are oil cooling passages (and even the Type R still have heat soak and cooling issues like crazy so imagine it with our engines) as well as parts meant for turbo applications since they are from the factory boosted. The reason the exhaust manifold (headifold as most refer to it) has only a single exit rather than the traditional 4port design is for boosted applications. The intake manifolds are different because I was thinking of trying to retrofit a Type R intake manifold but then I realized it would probably negatively affect performance since this intake manifold was probably design to be efficient with the NA engine. Sure you could always run longer headers but the intake manifold is in the back (for fuel economy) and space is limited not to mention it's a pain in the ass to work on.

It's not all bad though. Our engines haven't had many recalls since 2016 when they first came out. Our fuel pumps work as intended, haven't heard of oil dilution for the 2.0s, our head gaskets seem to be better than the L15s since I hear stories about them consuming the gaskets as if they were a Subaru. Also the most important benefit we have over all other trims is that we are Port Fuel Injected where all other trims are Direct Injected. I think of it as a benefit but many will argue direct injection allows for better fuel temps and knock resistances so a DI System is more performance oriented.
There is absolutely nothing wrong with you wanting to improve your car. You bought what you could and are making it work as optimally as you can. You also have realistic expectations of your car now that you know what you know. The c2 platform is still one worth working on, but it is rather limited. It honestly sounds better than the L15s and you guys also get VTEC!
I guess people need to be more clear with their intent when they come to forums like this and act as nay-sayers. It isn't because they are trying to be mean, it's because there simply isn't enough potential right now to allow someone who may not have the money or knowledge to really work on this platform the way they think they can.