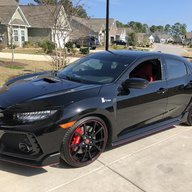 First Name

John
Joined

Mar 6, 2019
Messages
Reaction score

221
Location
Car(s)

2018 type R 2015 c300

So I've spent a lot of time doing research on efr turbo kit from full race cause I heard that there are issues.
One is throttle closure. Yes this is happening and can not be avoided on the low boost
The problem is the wastegate can only move 8mm or just over .3 inches. Efr turbo guide suggest no less than 10mm or .39 inches. You'll see this is preload working range chart below
Efr says that the wastegate reaches full open at 50 degrees. That requires according to efr .7 inches of stroke. More than double what the hondata actuator does.
If you have a stock fuel system you will get throttle closures in order to control boost low enough to not run out of fuel. Throttle closures are very noticeable as ive run into it for different reasons on stock turbo.
you can NOT adjust the stock actuator length. It's not an option. Technically it could be done but hondata software does not allow it.
In order yo run the kit on you'll have to get either more fuel with upgraded fuel system to run higher boost or get motec. This way you can control the distance the wastegate actuator opens. IYou can run vacuum actuaitor but this requires rigging up something to electronic actuator to fool it.
If you read the attached link to efr turbos it explains 50 percent of wastegate open is for control and the other 50 percent is relief. Remember it takes .7 inches for full 50 degrees and that means .35 inches to closed is control range. The 8mm the Honda wastegate actuator moves is .31 inches. Below the half point of.35 and 10mm minimum suggested is .39 inches.
here's the link to borg Warner efr turbo technical guide.
http://www.turbos.borgwarner.com/files/pdf/efr_turbo_technical_brief.pdf
The actuator can move further than 8mm but requires the software to be changed. It can be done it's not impossible but requires hondata to change it.
I'm NOT posting this to anger anyone or get back at anyone. I just feel as a consumer spending almost 5000 dollars to find this out after is unfair.
You can NOT run high enough boost stock fuel system to make it work. This is not defect in EFR turbo:"s.
I haven't heard any issues with garret turbo kits. I do know of actual person running garret turbo stock fuel system.