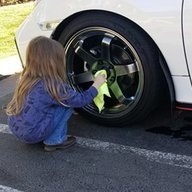 Joined

Apr 11, 2017
Messages
Reaction score

215
Location
Car(s)

'17 Civic Hatchback Sport Touring

April 10: Out with the old, in with the new. I'm gonna miss my little Evil M, but not for too long.
April 12: Her First FILL UP!!!!
FIRST MOD: Interior light LED swap. Really happy with the brightness of these new LEDs. Did not like the ugly yellow ones at all.
April 18: JDM badges!
Random shots, and a bath photo.
April 21: Designed me some door stills. Will upload a pic of them later.
May 2: Fitting & installing some Rally Armor flaps. The civic doesn't have good stock holes for these. I used the first bolt for the height adjustment, and then had to get creative with the rest of them. The front flaps were clipping the tire a little bit, so I used some heavy duty double sided 3M tape to secure them to my fender. Have not had any problems with them so far.
Painted the washers, so they don't stick out too much. Much better now.
May 4: eBay Mugen start ring and seat belt pad. Shipping took forever, but the quality of both are really good.
May 10: Had a old vortex generator from my EVO laying around, I was bored and decided to fabricate it and make it fit the Civic. Dremeled it out, sanded, and threw a quick coat on. Pictures of the final product coming soon!
This is how it looked before modifying. Way too big

May 11: Roof, spoiler, and license plate panel wrapped. Shutout to Street Image in Hayward, CA for the awesome work, and great deal!
May 14 Installed some red paddle shifter extensions. Really makes the steering wheel come together. The quality is surprisingly well made! Feels very weighted and sturdy once installed.
May 17: Pictures of the door still decals, and the vortex generator. Not a perfect fit, but it will do for now.
​
Last edited: