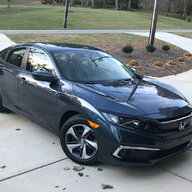 First Name

Tom
Joined

Nov 17, 2019
Messages
Reaction score

6
Location
Car(s)

2019 Civic LX Sedan, 2006 Element AWD

My last new car was a 2006 Element (which I still own). My new Civic LX sedan is my first new car since then.

The Element has a CD player, Sirius/XM radio, subwoofer, aux/MP3 jack and rudimentary controls on the steering wheel. That's it.

My wife and I don't have kids and we have shared the Element since it was new. I work at home, thus no commute, and I literally have not driven any other car made since 2006 except for perhaps a minute or two in a rental or a family member's car in the driveway (well, my rich brother-in-law let me drive his Porsche Carrera for few miles about 7 years ago).

Thus, I truly have had no concept of the changes in the driving experience in cars since 2006.

This morning I got in the car to go to the gym and the radio synced with my phone without having to plug anything in or even take the phone out of my backpack. The song on iTunes picked up right where it left off yesterday. After my workout, the same thing. On the drive home, I listened to local radio for a few minutes, then switched back to iTunes. Again, it picked up where I left off.

I realize everybody else on this board has been doing this for years - at least since Bluetooth became common early in this decade. And I see why people get their shorts in a knot when the Bluetooth connection craps out because of a software update. It's all just supposed to just work like this.

It struck me that this must be pretty novel experience, so I thought it might be worth mentioning here.