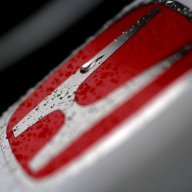 First Name

Admin
Joined

Apr 1, 2015
Messages
Reaction score

2,213
Location
Car(s)

Honda
Build Thread

Some good pics, impressions, and a hint at the price from the press launch. Full driving reviews are still embargoed for now.
The base model (2016 Civic EX) will start within $200 of the 2015 EX model.
2016 Honda Civic a wake up call for world-compact-car segment

American Honda's roll out of the 2016 world-compact-platformed Honda Civic may be perceived as a warning shot fired across the bow of U.S. and world automotive manufacturing, It's that good. A 'wake up call' for all manufacturers participating in automotive's largest car segment.

While attending a very well orchestrated fastrack 2 day national press presentation of Honda's next success story, the totally redesigned 2016 Civic was referred to be presenting engineers as a direct assault on the European-sport-compact segment, that it is!

The introduction of 2016 Civic continues the wild market trajectory that is the reinvention of the entire Honda car and light truck lineup.

Honda targets Audi and BMW compact sedan entries in this rather competitive, slow sales growth segment, while taking a well calculated proverbial swing at an annual million+ unit, U.S. compact car segment. With what is unquestionably the most exciting Civic entry to come down the assembly line in decades, we look to 2016 Civic to bring euro-auto-fans to the the Big "H."

2016 Civic will redefine not only the Honda brand name, but how drivers worldwide of all age and financial demographics perceive Civic, and the near future of the compact car segment.


What you see is what you get with Civic

There's nothing visually misleading in Honda's dynamic 2016 Civic. Body, wheel, digital lighting design and virtual wind tunnel inspired component to C-segment body integration, hints to an exhilarating, comfortable drive and ride experience. Civic is exciting to view, and even more so to drive.

While perhaps not the ultimate driving machine in Honda's paddock, 2016 Civic takes the best selling retail car in North America to new heights, as to drive and ride comfort, interior quiet, ergonomics and visual appeal.

The all new Civic is a sensory experience generally reserved for premium cars with MSRPs north of $30,000.

With a 2016 entry level base MSRP within $200 of the exiting 2015 Civic EX, consumers will be treated to greater standard value, without financially overextending.

Strong new age Honda DNA

Honda as demonstrated throughout the 2016 car and light truck lineup, once again presents a measurable uptick in standard feature value, uncompromising quality and exceptional driver, passenger electronic active safety features -- while holding the purchase dollar bottom line.

When we compare 2016 Civic to the competition, Honda takes this round hands down

In honor of our fellow journalist and our friends at A.H.M., we're compelled to hold our collective tongues as to drive impression, final engine specifications and model MSRP. That's just how it is!

We don't like waiting any more than the next guy or gal. But in the case of 2016 Honda Civic, this is the car that will benchmark the entire compact segment for North America. We'll give Honda a week or two to reveal 2016 Civic sedan in detail.


O.K., what we can tell you

Well, it appears that the color pallet was leaked to the world on Tuesday. Last week the world caught an official glimpse of 2016 Civic via YouTube Hollywood. So, throwing caution to the wind: 3 new exterior colors, 3 interior colors, 2 new Earth Dream ™ engines, 2 transmission choices, and finally, power seats available in top trim variants.

A very cool 17 inch wheel design, Type-R derived suspension and engine components, push 2016 Honda Civic to the top of the compact car food chain.
Without going into drive impression details
Take our word for it, seasoned Civic fans and Civic newbies alike will be giddy when experiencing the new found power and drive characteristics of Honda's next best seller.

Hey, read between the lines: "The best performing," The most comfortable," "The highest tech," "The total ground-up redesign," Yes! In the 40 year history of the car that began the Honda revolution in North America, 2016 Civic, eventually available in 5 format variants, will push Honda Motors to the next level in world-compact car segment domination.



The devil is in the details

The price is right, the drive performance, standard and optional safety features, epic! Handing a collective 'high five' to Honda design and engineering: This segment busting body design stands on the precipice of stunning meets cutting edge drive and ride performance.

Every line on 2016 Honda Civic sedan and coupe, from the truly unique 3 dimensional grill, to the headlight assembly front wrap integration C-shaped rear tail light assembly, evokes a sense of speed and stability while sitting in the parked position.

2016 Honda Civic is the compact car that will take Honda to the next level in exceptional segment-busting standard featured value, exceptional construction quality, built in comfort, safety and measurable drive enjoyment. Civic is a wake up call for the automotive industry, and a fresh injection of historic Honda ideals in a financially attainable car built for the driver in all of us, Honda style.

Source: http://www.torquenews.com/1574/2016-honda-civic-wake-call-world-compact-car-segment