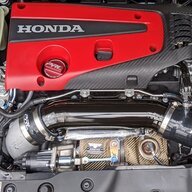 First Name

Adam
Joined

Jul 11, 2019
Messages
Reaction score

353
Location
Car(s)

2020 FK8 Type R, 2007 Civic Si Sedan

After a little bit of a learning curve the rears were pretty simple. You don't need to waste money on a special tool for the spindle. Channel locks work fine, you can just tape them up with vinyl electrical tape if you're worried about scratching it. Just gotta unplug the motor, remove it from the caliper, retract until you see the piston start to spin, and squeeze it down with your fingers. The front pistons are a little more annoying to squeeze down, since if you squeeze the 2 on one side, the other 2 will move back out lol.

I have to admit the first time I did the rear pads I didn't do it in the correct order and the car wanted to beep at me the whole time I was driving saying the parking brake was on, though it still spun fine. To fix it I took it all apart and did it all again but this time I didn't plug the power connector in until everything was together and I sat in the car and pumped the brakes a few times until it was firm. And then I plugged them back in and started the car up and it was fine.

I hate this switch to electronic parking brakes. Give us the lever!

Pad related, after having the hawk hps 5.0s for almost 2k miles or so, I'm very satisfied with their performance along with the girodisc rotors I paired them to. They do make a bit more dust than I thought they would. Especially compared to the PC's I have in the rears, but that could just be due to the brake bias and that the fronts do the majority of braking.

For a street pad I was a bit surprised that you have to get a good bit of heat into them for them to work their best. Plus they initially took a lot more bedding in at first then I expected. Took a couple drives to get them working right and to actually trigger ABS. That could have also been attributed by the brand new girodiscs.