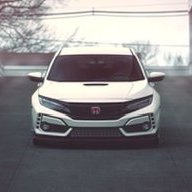 First Name

Frank
Joined

Dec 4, 2018
Messages
Reaction score

807
Location
Car(s)

2017 Honda Civic Type R

Thank you Frank. We are doing well so far, knock on wood. Today seems like any other weekend other than events and activities have been cancelled.. and the shortages at grocery stores.

On one hand, here is to hoping it's a better safe than sorry overreaction and hysteria...On the other hand, reading how other countries are going into full lockdown mode and the reasons for doing so is very concerning. It feels as if we are in the calm before the storm

Which makes me appreciate CivicX and its forum members even more. This is one of my few interests that hasn't been adversely affected (yet) and also complies with social distancing which is nearly upon us.

If the toilet paper shortage continues, I may have to switch gears and start looking at toilet seat mods (Bidet) instead of car parts

As for the Voltex 2V, pretty certain I'm nowhere near the level of driver that would be able to tell the difference. Wanted it primarily for looks, heh. Which in hindsight probably wasn't the smartest move as clear coat, ceramic and tax will push the price tag close to $3k. Didn't really think that one through before pulling the trigger

Amid the doom and gloom, did get some good news on the parts front... Finally received tracking info for the Raceseng tow hook ordered beginning of December... The longest I've waited and it's not even a JDM part.
Type R themed toilet mods is the way to go.