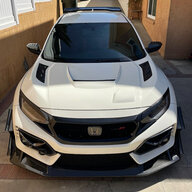 First Name

Tom
Joined

Dec 22, 2018
Messages
Reaction score

1,828
Location
Website
Car(s)

2018 CTR - CW, 1996 Honda Accord EX coupe
Build Thread

Hello fellow enthusiasts,
For the past 18 years or so, I've putt-putted around in a 1996 Honda Accord 2dr EX coupe, which I picked up used for $3,500...pretty cool it has racked up over 354k miles and still drives ok..
The great thing about this car was not needing to wash it beyond wiping the windows at the gas station...and also not getting upset on the rare occasions something like this might happen...
My sons often asked why I kept driving it and every time my answer was:
"I really like not having a car payment, insurance is cheap and the purpose of a car is to get you from point A to point B"
Well they kept asking....and after awhile, I remembered loving cars growing up and thought "Geez, when did I become my dad?"
I remember reading about all the cool cars at my buddy's house when I was a teenager. He had subscriptions to Road and Track, Motor Trend and other auto magazines...this was way back in 1985, before Internet and I was just barely getting my driver's license. I had all kinds of crazy kid dreams of what kind of car my parents might buy me...like the Mazda RX-7 or maybe a Porsche 924..
Reality kicked in and my first car was my mom's 1976 Pontiac Lemans (ughh) followed by a 1987 Buick Century (double ugh). My other cars after that were a 1979 Toyota Celica, 1987 Tercel, 1985 Nissan pickup and a 1996 base model Acura Integra. Picked the Integra up new and got into car audio...but parted ways a few years later when I could no longer afford it and BK'd.
Rewind to late last year. Was pushing my wife to get a minivan to replace her RAV4... she countered by saying I should do something for myself for once and get a new car.
Not knowing what was out there, I started researching cars...then saw the rave reviews the Civic Type R was receiving. Had never considered owning a civic, but this one checked all the boxes. Love Japanese cars and this was the closest thing to owning the kind of car that was always just a pipe dream...like the 93-95 Mazda RX7 or the 98-02 Integra Type R...or an S2000, but better for my current situation because it had (4) seats for the family and $35.6k MRSP didn't sound too guilt inducing..
Picked up a CW 2018 CTR December 1, 2018 for $41k tax, license etc. out the door so paid some ADM.
Found and joined this website a few weeks later. Spent some time lurking, caught mod fever after (6) months stock and wanted to do my own maintenance...I've also met and received help from some very cool people along the way, which all has increased my connection and appreciation for this car. I am very appreciative for all the information shared on CivicX.
Can say I've gone from being a car n00b... to well still being a car n00b
I daily my car and have begun taking it to the track to improve my driving skills and have taken my oldest son with me. Maybe I'll let him drive it there also.
In creating this thread, my goal is to document progress and consolidate my previous posts into (1) where it can serve as quick reference for others and also myself. Will import content from other threads so it's all here and my thoughts of each mod added + DIY things I've learned along the way.
Car as of 10/16/20
Hope you enjoy reading this thread and find some useful information. Please feel free to comment or offer suggestions
Table of Contents:



Year one wrap up Post #61 ENGINE/DRIVETRAIN:
Radium catch can petcock drain kit Post #299
ACT probe mod Post #55
Dream-Automotive High Flow Catted Downpipe w/Hard Lagging Post #344, #386, #387, #394, #397, #398, #399, #406, #407, #408
How to remove downpipe studs/nuts without breaking Post #387
Vibrant J tube defouler Post #408
J's Racing tower brace Post #364
Rampage Fabrication Ti strut bar and exhaust/DP/FP nut & stud kit
APR CF radiator cooling plates Post #369
HKS BOV inserts - Purple, Gold Post #590
COOLING MODS:
SUSPENSION/WHEELS/BRAKES:
Girodisc brake pads Post #9
Brake Safety tip when downsizing from 20's to 18's Post #91
Brake Bleeding Sequence Post #23
Brake bleeding (1) person method w/Speedi-bleed Post #476
Brake Bedding Procedure Post #23
wheel lug torque specs Post #23
Kics Koyo el hub centric rings Post #91
Rays center caps and wheel adapters Post #220
J's Racing titanium wheel lugs Post #340
JRZ RS Pro coilovers w/ quick disconnect rear reservoir hoses **ready to install**
HKS error cancellers **ready to install**
RV6 Compliance Mount **ready to install**
RV6 Rear Sway Bar With Billet Endlinks **ready to install**
RV6 Rear Camber Arm **ready to install**
RV6 Rear Toe Control Arms **ready to install**
EXTERIOR:
INTERIOR:
Broadway 300mm flat rear view mirror Post #239
Broadway 400mm convex rear view mirror Post #264
Broadway 400mm flat review view mirror
The Bracketeer fire extinguisher bracket Post #473
H3R HG250B fire extinguisher Post #473
MAINTENANCE TASKS
TRACKDAY RELATED:
MISC:
ACCESSORIES
:
Various tools, torque wrenches
Stealth Portable air compressor

FUTURE:
AIM Solo 2DL- lap timer and Smarty cam
Oil temp/pressure/water temp gauges.
Girodisc rear rotors
Blackvue dashcam
Radium Universal Fuel Surge Tank FSTR with regulated FPR #20-0130-01
Track days: 7

Big Willow 2/16/20 AROSC
Big Willow 4/3/20 Speed District.
Streets of Willow 5/17/20 Speed District
Button Willow 5/22/20 Speed District
Streets of Willow 8/22/20 LA Shelby Club
Big Willow 10/11/20 AROSC
Streets of Willow 10/31/20 Speed Ventures
Last edited: