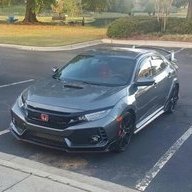 First Name

Joe
Joined

Oct 17, 2017
Messages
Reaction score

216
Location
Car(s)

2017 Civic Type R, 2016 Accord Sport

I don't like the rear-end of the Civic Hatches, but the wing 'filled in' the slope I didn't like. But... totally my own opinion! I'm glad there will be something for everyone, although I'm curious if that's a cheaper model and possibly had some performance stuff removed...

I was torn on the black waffle panel swap, and now I realize I really don't like the new ones. Looks oddly out of place, although again, that's my opinion.
I agree. The rear end of this generation Civic hatchbacks make me want to vomit. I usually do not like the look of huge wings on cars but personally, for me, the current wing helps the looks of the rear end a lot. I can tolerate the big wings on cars only if they add to the performance. A good example would be from the C7 ZR1 or the ZL1 1LE even. I don't really like the looks of the wings but the added benefit overcomes the looks for me.