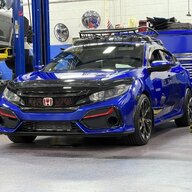 First Name

Rob
Joined

Mar 7, 2019
Messages
Reaction score

144
Location
Car(s)

19 Sport. 17 EX-T. 16 EX-T. 12 Accord EX. 08 LX
Vehicle Showcase

1.5 compression ratio is 10.3
2.0 compression ratio is 10.8
Not that much of a difference…
Drob (no disrespect to him) hasn't tuned a boosted c2.
The slow fc2 probably has stock engine and trans, and no return fuel system (reason for heavy fluctuating afr's). I talked to him and his mechanic did everything which makes be believe he wasn't very knowledgeable in what had to be done exactly, especially with the tuning. I will not deny the information he was told was incorrect.
E85 kit can be utilized, with separate e85 tune and ethanol content gauge, upgraded port injectors, just can't be hooked up to the ecu and alter/change maps.
There is no record of what the c2 can't handle so you can't say:
It is very much a challenge to add a turbo or supercharger due to stock ECU limitations, stock bottom end on the C2 not being able to handle more than a few lb of boost to begin with.