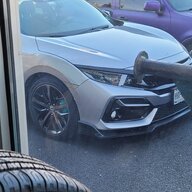 First Name

Oluwatobi
Joined

Apr 20, 2021
Messages
Reaction score

4
Location
Car(s)

2021 Honda Civic Sport Hatch

There might not be any clearance issues with a factory charge pipe. After adding a little more bend to one of the factory hose barbs on my CVT warmer, I ended up with adequate clearance for the PRL charge pipe.

I'm not exactly sure what you mean about running the bypass valve in parallel to the CVT warmer and run my cooling system in series. It sounds you believe the aftermarket cooler could be installed onto the factory hoses that run to the CVT warmer.

Based on this, I'm wondering if you understand the design of the factory CVT warmer block. The two factory lines going into the front of the warmer are carrying engne coolant and not transmission fluid. The warmer block allows heat transfer from the engine coolant to the transmission fluid without mixing the two fluids. To run a transmission cooler you need an adapter that provides outlet and inlet ports for the transmission fluid to flow through. That was the critical piece I used from the ETL kit.

Does that make sense or did I misunderstand the cooler configuration you had in mind?
You are bang on the money. I got carried away and was thinking about the CVT warmer on the WRX. The adapter is indeed needed!