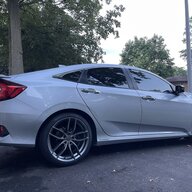 First Name

Arianne
Joined

Jun 30, 2019
Messages
Reaction score

7
Location
Car(s)

2017 Honda Civic Touring
Vehicle Showcase

Hi all,
I have a 2017 Civic Touring in Lunar Silver and finally decided to order the OEM Si sedan spoiler which came with no instructions or templates!! When I was looking into how to install it myself I couldn't find much info about it so thought I'd share some tips that might help any DIYers. For those wondering where I ordered it, I work for a Honda dealership and ordered it through them, part number is:
71705-TEY-Y01ZC followed by your paint code. Cost me around $350 but that was with an employee discount.
First thing to note is that the spoiler does in fact fit without having to remove the stock lip spoiler, and the brake light on the Si spoiler is still visible. Removing the lip spoiler is virtually impossible as it has around 10 holes for clips stamped into the trunk lid that the new spoiler would not cover. Depending on your preference, you can keep the back window brake light (which is still visible) so you'll have two centre brake lights, or just remove the bulb for the stock brake light, which is what I did.
For the template, I did things a lot differently. As is typical of Honda, they recommended drilling at least ten holes to secure the spoiler. Since I was concerned about rusting I decided to only drill three holes, two for bolts and one for the brake light grommet, and double-sided taped the rest. I made my template by covering the whole bottom end of the spoiler in masking tape and poking holes through it. Then I would place it on the trunk with the actual spoiler on top to make sure it was in the right position.
After drilling the holes and making sure they lined up perfect, I used a touch-up paint pen around the freshly drilled holes to prevent rusting and put a foam washer against the hole on the inside. Before securing the tape, I used rubbing alcohol to clean the surface and ensure bonding.
Lastly, for wiring up the brake light I had to extend the spoiler's brake light assembly as it was too short. I wanted to keep the original brake light in working order so I tapped into the existing brake light circuit by removing the spoiler plug and soldering it to the existing wires. (Might go without saying but just in case: Always remember to isolate the two wires with electrical tape to prevent short circuits!) Then I wrapped it all up with wire loom and zipties to make it look stock. I should have taken pictures of this part but I didn't get any of the process. If anyone wants pictures of the aftermath I'll add some to the thread.
Hope this helped, I know it's not a step by step guide but maybe it'll answer some of your questions! Don't hesitate to ask me questions if I've left any unanswered.
Last edited: