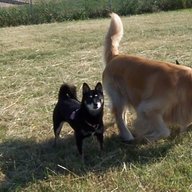 Joined

Aug 17, 2018
Messages
Reaction score

34
Location
Car(s)

2018 Civic Sedan EX-TA, 2002 Jeep Wrangler TJ SE, 1997 Camaro Z28 LT1
Shibefur, that's out-frickin' standing.

So, the dial diameter across the outboard edges of opposing hour markers would be 300 pixels?
Well, yes. And no.
Basically, yes, roughly 300 across, left end of left pip to right end of right pip.
But it gets complicated when we're talking exact pixels. I would call it 296 pixels across if we're being as exact as we can. Which is tricky.
One reason things get vague is because, at least on my car, I can only upload a .JPG as a clock background. It ignores .PNG and .GIF images. And .JPGs are lossy and messy especially when you start looking at individual pixels, while .PNGs aren't compressed like that.
I did a test to see how much that is influencing things. I drew the pips at 20 pixels long in green from center + 130 to center + 150 pixels, then overlayed with pips 19 pixels long in blue, then overlaid with 18 pixel-long pips in red. Here's the .JPG version of the original image.
https://i.imgur.com/ZKABxAj.jpg
And here's the .PNG version. Same exact image, just saved as .PNG. If you zoom in on any of the colored pips, you'll see that the edges are much cleaner, and generally you can see the red-blue-green progression. Not so much with the .JPG version. Plus, the .JPG has a lot of random trash around the pips due to smearing from the image compression process.
https://i.imgur.com/QUYh6LQ.png
Here's the result on-screen of loading the .JPG version, with the clock's light-gray pips overlaying the image's red/blue/green pips.
You can pretty consistently see the ends of the green (image) pips sticking out past the gray (clock) pips. The red peeks out on the 3 o'clock and 6 o'clock pips too, which might just be aliasing error (like the red sticking out on the sides of some pips).
[Also, the camera really picks up the .JPG compression trash. And the crud on the screen, even though I just cleaned and swiffered it.]
Soooo, from looking at that, yeah, I'd say that the ends of the clock pips are at +- 148 pixels from the center of the screen, or 296 pixels end-to-end. But probably for most things, calling it 300 is close enough.
The clock pips are drawn with a subtle "bevel" effect, that might be causing them to be drawn a pixel or two shorter. Or not, who knows.