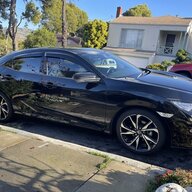 Joined

Dec 2, 2016
Messages
Reaction score

287
Location
Car(s)

17 FK7 | 11 E90M3
Vehicle Showcase

Hi All,
Back in December 2016, VW bought back my 2012 Golf TDI 4dr 6MT because of the dieselgate. The return price was very close to what I paid about 1.5 years prior so it was a no brainer for me to trade it in. I was left with figuring out what to replace my commuter with and I learned about the new Hatches with optional sensing. I figured that in the future, this would be a "want" feature on cars so I hunted for an EX with sensing hatch. I didn't need the extra EX-L stuff or splurge for the touring since I was planning to throw a ton of miles on this car. Since the hatch was still relatively new, I was having a hard time finding an EX w/ sensing. Finally at the end of March 2017, I was able to purchase one. So this is a mini-journal of my little commuter as I know for a fact I can't leave things 100% stock. It will be far more minimal in modifications as the garage queen takes majority of that budget.
I'll be looking for mostly OEM+ style mods.
#Current Mod List (last updated 2019-10-21)
## Exterior
-Honda ASEAN Clear Side Markers
-Honda OE Sport Gloss black window trim
-Honda OE Si wheels
-Suntek Paint Protection Film (Whole Front end)
-Suntek Carbon 35% Tint
-Miromoto Elite HID kit
## Interior
-Honda OE EX-L Leahter Shift Knob
-Honda OE EX-L Leather Steering Wheel
-Honda OE 2019 cupholder
## Misc
Valentine1 Hardwired
BlackVue 590S Hardwired
Day 1.
Current:
On another note:
My current garage queen:
old 2004 BMW 330i performance package HPDE fun car
old 1993 civic coupe turbo:
Cheers!
Last edited: