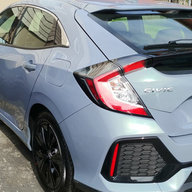 First Name

Juan
Joined

Jun 3, 2019
Messages
Reaction score

21
Location
Car(s)

2019 Honda Civic EX Hatchback

Hi guys, so a neigbor backed into my car coming out of our parking.
The tow-hook on his truck went straight for the area just above the fake vent on the driver side and dented the bumper pretty good. Part of the fake vent is popped out along the top.
Everything else seems fine luckily. Haven't tried but should the fake vent just pop back in? What are you guys thoughts on the dent? Might I just be able to pop it out?
I ask mainly as I already started an insurance claim. This is the first time I've ever been in such a situation. Google suggests premiums could go up for this even though I'm not at fault. Also suggests I should be able to cancel the claim at any point. They are trustworthy and would be covering any repair costs of course.
Any thoughts and advice anyone can provide would be greatly appreciated!
Last edited: