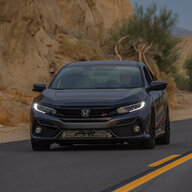 First Name

Jesus Hernandez
Joined

Jun 14, 2018
Messages
Reaction score

2
Location
Car(s)

2016 Honda Civic EXT

Hello everyone!
Today I experienced a strange "beeping" sound coming from the dash while driving.
I believe I have found the cause of this
phenomenon
? So, I will walk you through the steps I made before the sound became present.
I was driving on the main highway at speeds of 60 miles per hour (this may be useful?) at the same time I was attempting to connect my phone to
Android Auto
, specifically to the iHeart Radio app.
(Do not attempt to connect your device while driving, IT IS DANGEROUS)
While making the attempt, I noticed that Android Auto did not show the iHeart Radio app, which is abnormal because I have not had this problem when using my iPhone. I then manually played music from my phone but the song information did not display in the head unit and I was unable to skip or pause any songs from the steering wheel controls. After a few minutes, the music stopped playing and the beeping started. I immediately pulled over to check for any warning lights or messages but did not see anything. I kept the car running and clicked on the volume controls but nothing happened and I was unable to select an audio
Source
on the head unit. The beeping continued and I was unable to find the source, so I proceeded to disconnect my phone and restart the car.
When I restarted the car the beeping was gone. I then selected an audio
Source
and this message was displayed,
"Unable to connect to smartphone"
but my phone was not connected. I disconnected the USB cable and changed the audio
Source
to FM radio and music started playing. I reconnected my phone and the iHeart Radio app immediately opened in Android Auto and displayed song information in the head unit.
Could the head unit be downloading the iHeart Radio app? and needed to be restarted?
I also recorded a video when it happened.
Click here for video.